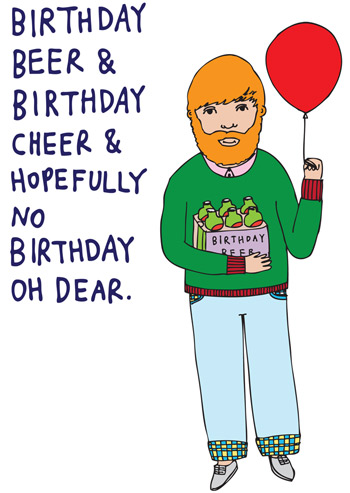 The last few months have been a bit strange over in
Able and Game
land. We recently changed to a different printer that is harder, better, faster and stronger so kind of like Daft Punk without the glowing skeleton suits. Along with this new printer, we also had loads of designing
*
to do for the diary and calendar. Technically we had been designing a few card but they are for Christmas so we held off talking about them because like everyone in the world we are not into having Christmas Carols shoved down our ears until well after October.
All this gabbing brings us to our point, we designed a new card this week. It was exciting, we oohed and aahed over it and then put it on the ground and did a silly dance around it. Okay, maybe we didn't go to that much trouble, but a little ceremony of happy happened in my mind. The card is up on Etsy and we think it is just right for that guy who likes drinking the boutique beers (hello
Thunder Road
we like drinking you) but still sometimes gets messy on cans of Carlton.
*I'm looking for an equivalent to pixel pushing but in relation to vectors, if anyone knows one I want to hear it right away.