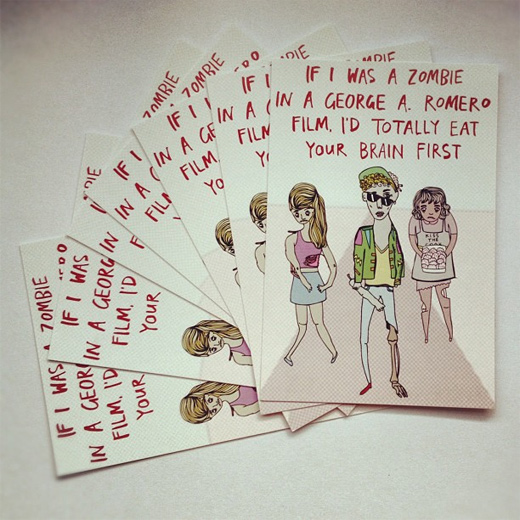 We got some new postcards printed up and they arrived this week ready to give away with our online orders and at market stalls. We decided to go with a design we have had for a while now, the
zombie card
and we had a good reason to select this design because one of our favourite Melbourne cinema's is hosting a George A. Romero night next month.
If you're a fan of his films then you need to
put October 28th into your diary
as
The Astor
are playing
Night Of The Living Dead
,
Dawn of the Dead
and
Day of the Dead
back to back to back. From 6pm until 11.50pm you can get your fill of zombies and choc tops.
The Astor is a pretty amazing place, they have a resident cat (mega tick from me) and lucky for us will remain open after a Melbourne businessman
purchased the building
. Next week they are playing
Lawrence of Arabia
all week long and I think it would be the perfect place to see it, second of course to the time your history teacher got lazy and you watched it over 6 periods back in the early '90s.