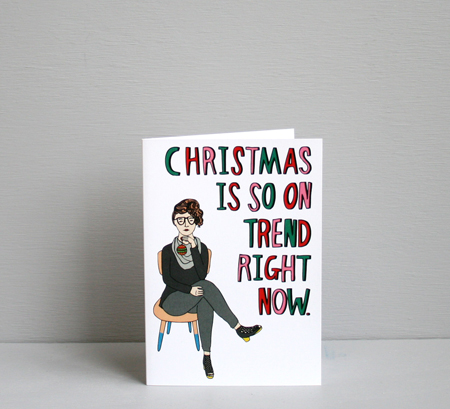 Yes, that's right, Christmas is so on trend right now! Here is a list of things that help us to know it is Christmas season:
1. FOOD.
There is always so much food, from co-workers bringing in home made mini Christmas cakes topped with almonds, to boxes and boxes of chocolates just hanging about.
2. BOOZE.
Occasions you can drink at just increased to 29388 a week. Drinking during the day at work isn't frowned upon. Drinking at breakfast isn't frowned upon.
3. GIFTS
Your brain is going to go onto hyper drive trying to think of all the things your brother/sister/mother/sister in law/friends ever mentioned liking trying to work out what you should buy them. Helpful tips: stalk their pinterest/facebook page for inspiration. Or just see point two and get them BOOZE.
4. CAROLS
I do not like new modern day carols. Give me
Good King Wenceslas
or go home.
5. CARDS
Have you started a Christmas Card display in your home yet? Will yours have
David Bowie and Bing Crosby
on one? We have a
huge range of Christmas Cards
, so hopefully there is one in there to suit the people on your list.