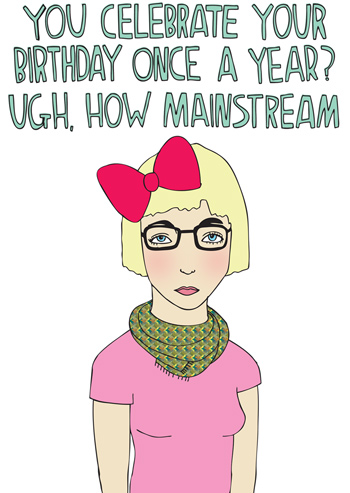 Last month we had a newsletter competition and we asked what type of card do you most use. It seems birthday was the clear winner and we started adding more birthday cards to our range. When it comes to designing cards I seems to always gravitate towards the romantic ones. I don't know why, I think because I love drawing the dorky loved up guys. Over the last few weeks I have been thinking hard about birthdays and how to turn everything into birthday related cards. Once you get thinking about it everything becomes a "can this become a card" situation.
I drew this girl and I thought she looked a little too cool for school. She was probably born on a leap year so she only celebrates her birthday once every four years. Beat that! When we listed it on Etsy we went out later that night and when checked our email someone had purchased one. When this happens it always makes me happy. Gareth and I usually high five one another then say BEERS FOR ALL! and have happy face for the rest of the night. The beers possibly help with the happy face but the card selling takes most of the credit.
She is on Etsy
if you want to impress your friends with her total disregard for anything remotely mainstream. She would not approve of our happy beer face that is for sure.