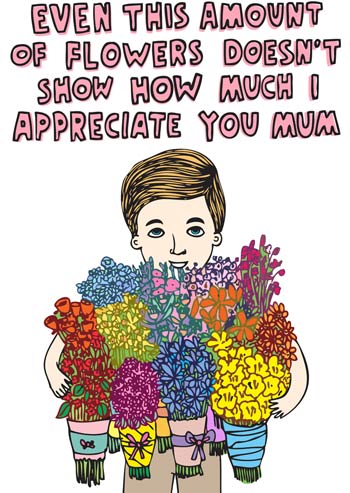 .. it is Mother's Day in Australia and North America. We have been busy making lots of new cards to add to our range. Did you know three years ago I made some little hand drawn cards to sell at
Rose Street
and it was the
Thanks For The Lift
card that kinda started the ball rolling for
Able and Game
? I thought it was too good an idea to waste so made a whole card business based on that one idea. I also wanted Gareth to work along side me and although he was a little hesitant (hello queen of disorganisation!) he know works full time on Able and Game with me.
When I think about stuff like that wish I could go back in time and tell myself things will work out. It always seems like you're chasing something, but when you get something you want you have moved onto something else. I guess that is what keeps us motivated, but sometimes you have to stop and smell the Mother's Day flowers! The card above is
available on Etsy
, as well as
Rose Street
market this Saturday. Rose Street wont running on Sunday because of Easter.