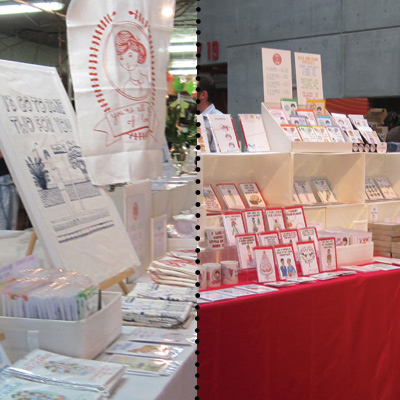 Gareth and I just finished up a big weekend that started Friday and ended when we opened a
bottle of Sav Blanc
around 7pm last night. With
Finders Keepers
on Friday and Saturday and then
Melbourne Design Market
on Sunday as well as old faithful,
Rose Street
. It was a big weekend, one where Gareth and I had to bring our
A game
.
A few things I would like mention:
Baja Cantina on Glebe Point Road does lovely Mexican food.
Make sure you book return flights home on the correct date. Nothing is worse than arriving at the airport tired only to find the flight you booked was for the night before. There were tears, it was a little Amazing Race-ish and the lovely check in lady from Virgin made me feel a lot better.
Thank you to everyone that stopped by and said lovely things about our cards, it really was a lot of fun and Gareth and I often say the best thing about making the cards is seeing people laughing out loud at our market stalls.
Thank you to our friend Cain and my sister Eliza for helping out at Rose Street and Melbourne Design Market. Such a HUGE help!
Gareth is a star.
Now we have the countdown to Christmas with 7 more markets booked. If you're wanting cards or gift ware between now and then and are in Melbourne our
website has all our market dates
. If you're not in Melbourne or can't get to the markets, there is always our
Etsy shop
.