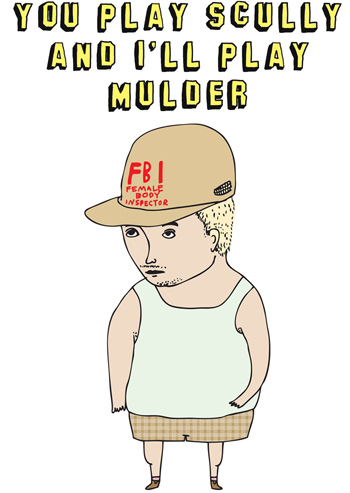 Apparently in the late '90s when Gareth was on a trip to Blackpool the hot English sun was too much for him and he decided to protect his delicate Scottish skin with a cap. Obviously the sun affected his decision making skills and he ended up with a hat not unlike the one this guy is wearing. I had a look to see if you could buy any online and found this one on
Ebay
. Maybe you should buy it as a funny gift for a family member for Christmas, imagine your brother's face when he opens it up!
I think this card could easily slot into
our
ever
growing
creepy
range
of
cards, in fact I think
this bad boy
would win the creepy card competition. Gareth and I are big X Files fans, we started watching it again a few years ago as both loved the show as a teenagers. I think he wishes I was Scully and I wish he was Mulder!