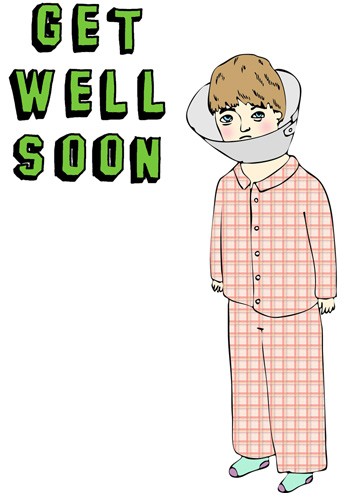 Coming up to winter is the time when everyone gets sick. Twitter and Facebook feeds are full of people talking head colds, chest colds, runny noses and blocked sinus. Gareth and I often seem to escape the sickness and I put it down to never going out and watching a lot of TV. Okay, maybe not entirely true but in any case we count ourselves lucky and I'm currently touching my wooden desk. Up until today we only had one
get well card
, which is pretty pathetic considering we make cards.
This one came about after
Bridget
, Gareth and I talked about get well cards and cone heads. I think the thing I like the best about this card is the PJs. They are those over sized men's flanny ones that are soft, but too long in the leg so you end up tripping up whenever you walk around the house in them. A cold hard reminder that you should not be wearing them at 2pm in the afternoon (unless of course you are sick!). The card is
available on Etsy
and at
Rose Street
this Saturday and Sunday.