When you do weekend markets it kind of turns the week into a bit of a back to front week. While everyone is going all

Thank God It's Friday

at the end of the week, we are usually working into the night getting ready for the markets. Come Monday, while everyone is suffering from Mondayitis, we can have a nice lie in and a relaxing morning reading in bed, or playing Bookworm in bed. With a whole week ahead, I enjoy Monday as I think of all the things I will get done.
So what is new in
Able and Game
land? We have been busy sending orders out to shops, getting ready for markets and making new products.
So without further ado, this is what is new pussycat!
Here are some of the new shops to keep an eye out for if they are in your neck of the woods:
Desire Books
- 3 Whistler Street, Manly, NSW
Distraction
- 84 Gymea Bay Road, Gymea, NSW
Bang Art and Gifts
- 50 Macleay Street, Potts Point, NSW
Berkelouw Books
- 19 Oxford Street, Paddington & 70 Norton Street Leichhardt, NSW
The Ludo Trading Company
- 493 Toorak Road, Toorak, Vic
Heaton and May
- 47 Olinda-Monbulk Road, Olinda, Vic
The Curious Oyster Shoppe
- 776 High St, Thornbury, Vic
Ellia
-
142 Newmarket Road, Windsor
& 46 James St, Fortitude Valley & Portside Wharf, Hamilton, QLD
New Products

We have some new sticker packs in our Etsy Store. The packs have 18 stickers with six different designs and we currently have two different packs. The boy pack (shown below) with some of the guys features on our cards and some of the saying from the cards, as well as a new 'I'm stuck on you' guy. The other sticker pack features our Little Shoes designs with soft pastel colours, pretty shoes and half tone patterns.
The stickers come in a cute little pack with some blue stitching and are perfect for putting anywhere a sticker should go. For Gareth that was on the back of the remote.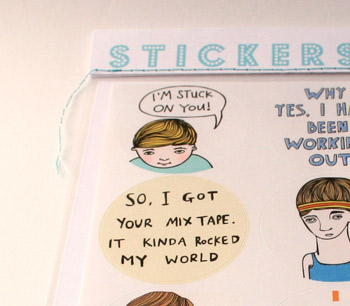 Markets

And lastly, it's only two weeks till we will be in Adelaide for the Bowerbird Bizaar. I'm super excited because I will get to see my Adelaide favourites Naomi Murrell. I got one of Naomi's Flock Screenprints and it is so perfect, although I still need to frame it up. There will also be a bunch of Melbourne people coming over including Gaye Abandon, Rebound Books, Twiglet, Shabana Jacobson, Victoria Mason and Oktoberdee. If you do come along pop by and say hello!