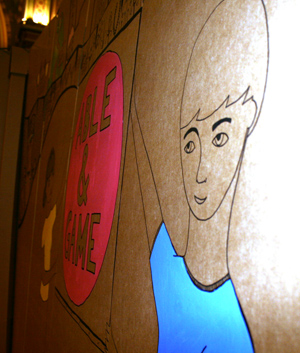 The last week has been a bit of a blur and I can't

believe

it was a week ago I was packing up ready to go to the Carlton Exhibition Buildings to set up for
Design Made Trade
. The opening night was fantastic fun, especially after spending Tuesday night and all of Wednesday sniffing sharpie fumes and feeling like I was in an episode of
Top Design
with the

deadline

looming. A big thanks to Sam for including us in his post on
The Vine
about the 5 things he loved at

DMT

and to Lucy for saying lovely things about us on
The Design Files
.
We also took part in
This Is Not A Design Market
which was a great event, although I didn't get a chance to have a look around at all the stalls. I wasn't sure what to expect and lucky my parents were in the city and answered my emergency "please come back and help me"

sms

. Hello to all the people who came by, it was great to chat to you and see that our sense of humour is appreciated by others. Gareth and I both agree, the highlight of making our cards is seeing people laughing and getting enjoyment from them. We will be back at
Rose Street
this Saturday, hopefully with some new designs, which always seem to come at 2am when we don't have a pen and paper handy!