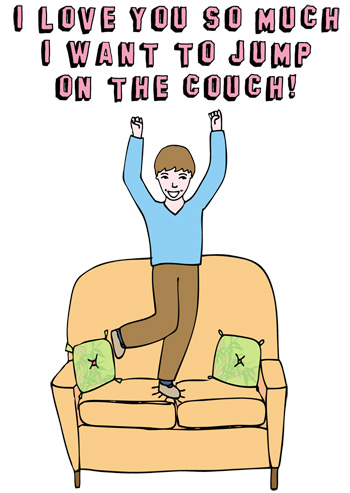 Have you ever loved someone so much you had to get up on the couch and jump about? People might think you're weird, but jumping on furniture really is quite a bit of fun so combining it with a declaration of love must make it about the best thing ever. This
Able and Game
card is
available
in our Etsy shop, and this weekend if you're out and about in Melbourne you might find us at one of the three markets we are doing.

I think this Sunday is going to be the day you bump into everyone in the city, with the
Open House
,
Design Made Trade
and
This Is Not A Design Market
on. But if you are not out on Sunday you can still come and see us at Design Made Trade or
Rose Street
on Saturday. Gareth will be at Rose Street on Saturday so go chat to him about how you love his
Get Well Monkey
card, that
Picard
is a far better captain than
Janeway
and how
Magic: The Gathering Online
is loads of fun.