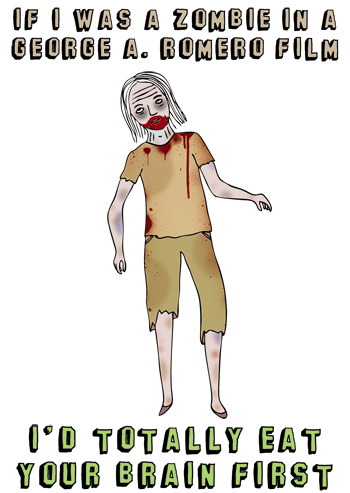 Who doesn't like a Zombie film? Even if you think you don't like them there is always
Shaun of the Dead
and
Fido
, both have what I call "friendly zombies", the kind even unfit people can most likely make a getaway from. Just stay well clear of
28 Days Later
, unless you're a Sandra Bullock fan, in which case you should have rented
28 Days
.
For the king of zombie films look no further than
George
. Just check him out for his glasses alone!
Able and Game
have a new card that is a bit of a tribute to the man himself, a card that lets people know you like them. A card that says if you were a zombie you would hunt high and low for their brains first. The
card is on

Etsy
, and will of course be at Rose Street this weekend. I'm hoping some Zombie fans come along, we need more suggestions for our next Zombie Film Night.