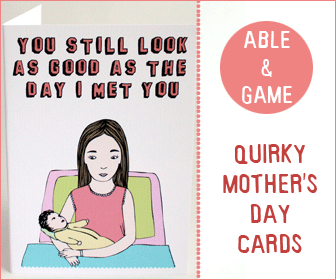 This coming weekend Able and Game will be at three markets in Melbourne, so if you're wanting a Mother's Day Card it might be a perfect change to have a look at the selection.
On Saturday we will be at Rose Street Artists Market. This market is located at 60 Rose Street in Fitzroy, between Brunswick Street and Nicholson Street. It runs from 11am - 5pm and we are located inside, just up the concrete ramp. Gareth will be running this stall on Saturday, so if you want to meet the Game in Able and Game this is your chance to say hello. He is the
inspiration behind this card
, but just just don't go asking him about the week our modem broke and we had to go back to dial up.
The other market we will be doing is in the city at the Nicholas Building on the corner of Flinders Lane and Swanston Street in Melbourne.
Peta Pledger
has planned this Studio Sale and it also involves
Jodie Nicholson
,
Kate Boulton
,
Rachel Francis
and
Samantha Sultana
. The sale will be held on Level 2 of the Nicholas Building (near Buttonmania) from 9am until 5pm.

On Sunday we will be doing Sunday Arts at the Convent at the Abbotsford Convent. This will be in the the refectory (just past the bakery) from 10am - 4pm and it a lovely place to come for lunch, have a look at the market, then pop down to the Collingwood Children's Farm to see some animals.
For those of you not in Melbourne, then you always have the online method of buying our cards. This one is good because you can wear your PJs while doing it!