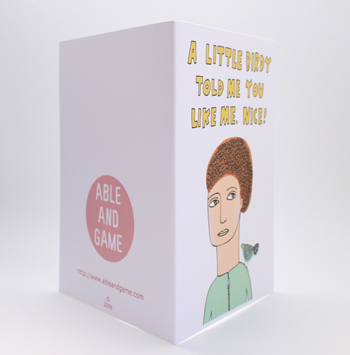 Brunswick Bound
is located at 61 Sydney Road in Brunswick, Melbourne on the same side as the Spotlight shop. They have a great range of art book and stationery from Australian designers.
Betty Mim
is located at 167 Darby Street in Cooks Hill, Newcastle. They have a focus on non mass produced items, independent labels and local designers.
The Hive Gallery
is at 25 Lonsdale Street in Braddon, Canberra. Hive Gallery sources high quality Australian contemporary art, craft and design for all budgets so it can be appreciated by all.
Leeloo
is an online boutique run by the charming Angela. Leeloo is an online community and store where treasures from emerging Australian designers and artists can become yours!
Tender Loving Empire
is our newest stockist and we are super excited because they are located on NW 1720 NW Lovejoy #109, in Portland, Oregon in the USA! They are a purveyor of things artistic and not only have a store, but also do custom screenprinting and have a record label.
ableandgame.etsy.com
is where we are currently selling out cards online, but plan to have our own online shop up and running on the
website
really soon. Gareth is working hard on getting all the back end computer geeky oohlala coding done while I'm working on the design.
Rose Street Artist Market
is located at 60 Rose Street in Fitzroy, Melbourne and we have a stall there every Saturday. This Saturday is Valentine's Day so we will have lots of cards available, and it isn't going to be 47 degrees, it says it is going to be a lovely 28 degrees, just perfect some Rose Street shopping, then a long romantic lunch on Brunswick Street.
If you're interested in stocking our cards you can go to our
wholesale section
and sign up for an account.