Welcome to the Able And Game recap of Masterchef Australia S10E05 (Sunday Night). Masterchef is back! And we are back drawing it, in a slightly different format to last year. This year we will have blog recaps rather than live drawings on our Facebook, I won't bore you with the reasons as it involves children and sleep and bedtime.
First things first, this year the intros for each contestant are top notch. There is a lot to unpack, so I will break it down in installments.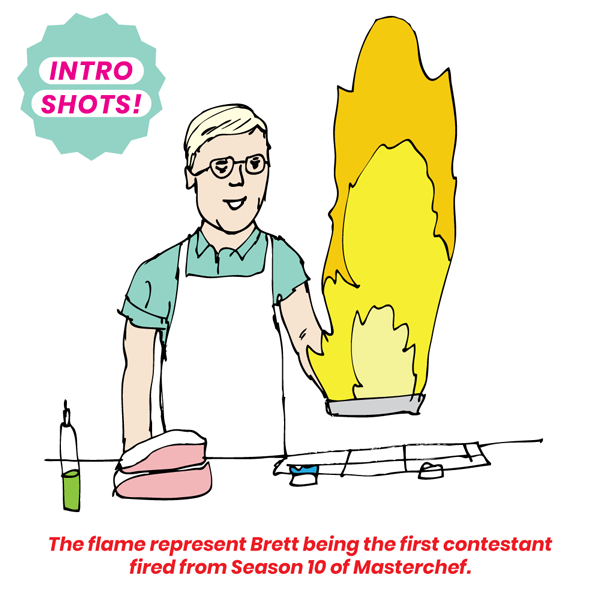 Brett. Who? Brett. Who? The guy kicked off first. Oh, him.
Brett is dealing with a very large fire, around 1 meter in height. I assume the producers knew he was going to be the first to go so they were happy to risk the pyro techniques on him.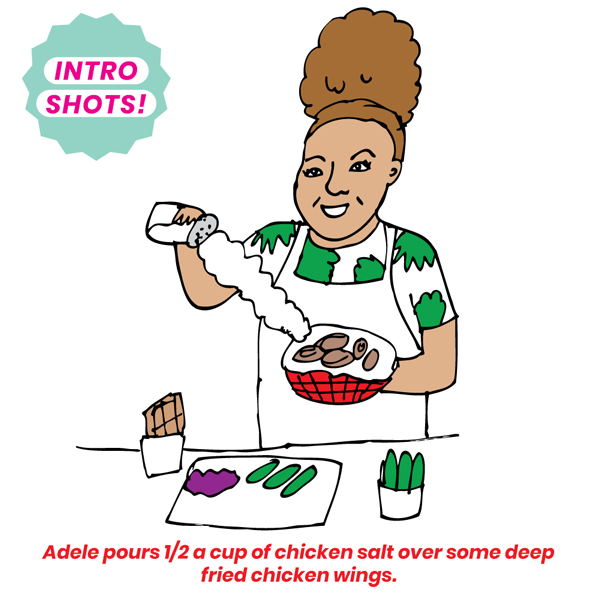 Adele's really stood out to me. With this and pretty much all of the intros I've made assumptions that are probably incorrect. But when you watch them each episode you will laugh because cooking is an illusion and you can use your imagination for LOLS.

Adele is pouring a shit tonne of salt over that small basket of wicked wings. If it isn't chicken salt, I can only assume it is icing sugar. Either option seems baffling to me. Unless it is an illegal substance, and then a lot of things make sense.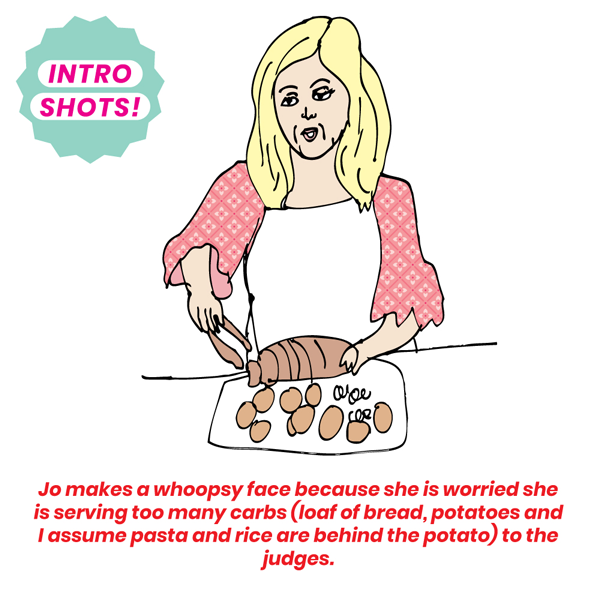 Jo makes a whoopsy face as she places a potato on a large wooden board full of starchy carbs. Carbs are my spirit animal and I think they might be Jo's as well judging by the board. I can't see pasta or rice on the board, but I know it is there, tucked between the potatoes and loaf of sliced artisan bread, possibly a sourdough or maybe just a casalinga.

Jo is probably worried the judges will be unimpressed with a dish that is all carbs, but I think they would be very pleased with this carby offering. Matt would tap the spoon two times and Gary would stuff another potato into his mouth with his fingers, not his fork, indicating he approves of all this carb. George would just give her a cheeky grin then lecture here on why Pete Evans isn't a Masterchef host.

Two thumbs up for whoopsy face Jo.
(I suspect that the loaf of sliced bread is actually a roast pork loin, but my personal food dream is that this is a wooden board full of carbs so please don't destroy my food dream)
Onto the episode, everyone walks in and there are the required oohs and aahs. Voiceover tells us that the prize is still a monthly column in Delicious Magazine and $250000 to kick start their FOOD DREAM™.

Things are changing in the Sunday night Mystery Box episode. Time is still never on your side and everyone is still nervous, but the rules are changing. If you win the Mystery Box you now go straight into Tuesday night's Immunity Pin cook and you don't get to cook in the Invention Test. This means you don't run the risk of cooking something craptacular and ended up in a black apron Monday. You also get to stand in the gantry and watch down on everyone with a few shots of you shouting words of encouragement all on your own, which looks really awkward and weird when you're not surrounded by other people also yelling words of encouragement.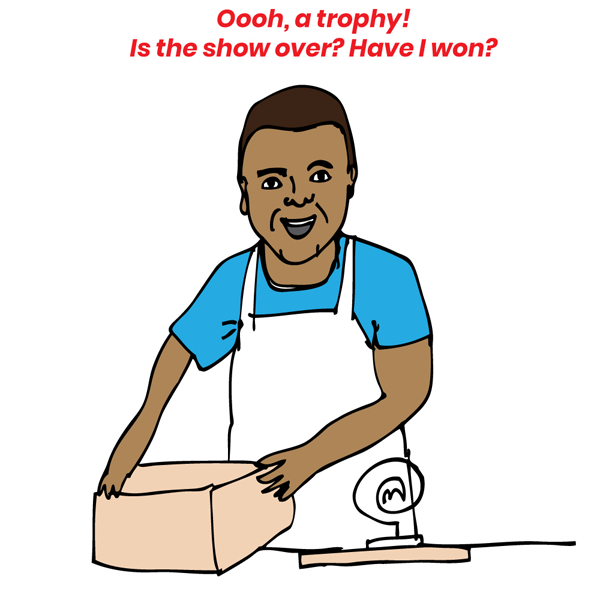 Sashi finds a trophy under his box, while everyone else has nothing. This means he gets to pick the 8 ingredients for the mystery box and Ben shows genuine concern that he is going to go and select 2 curries and 6 spices. He doesn't like this because, you know, he isn't used to that too much.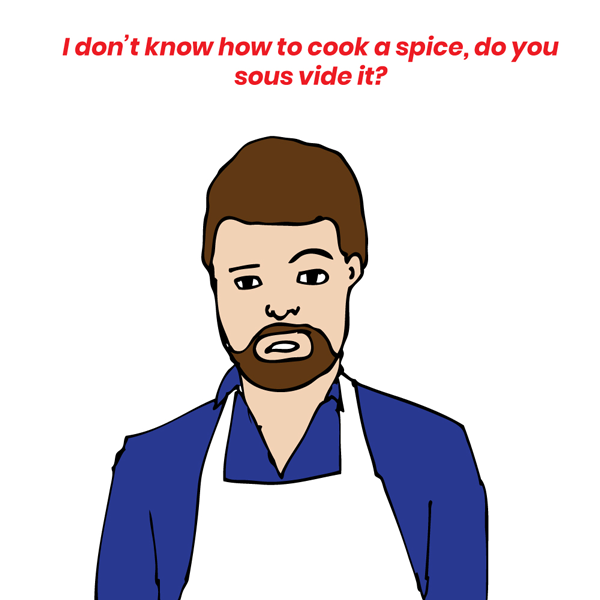 Brendan is making Boxing Chicken, because he is into boxing. Going by his clean, clutter free bedroom he is also into living a minimalist life. Sadly he didn't call it Kondo Chicken.
But would Kondo Chicken make Gary do this??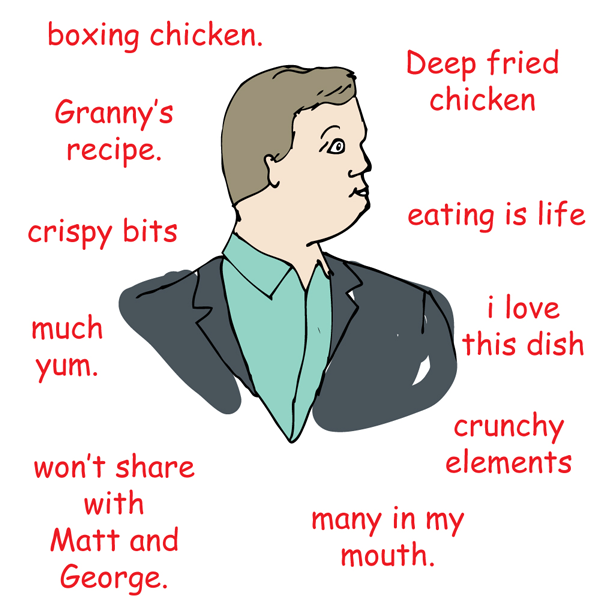 Mystery Box Dishes Tasted:

Gina: Soup that looks really weird when she finished plating, then much better when in front of the judges
Brendan: Boxing Chicken
Denise: Chicken on puree
Genene: Steamed puddings that were dry and gross and now look okay did I miss something?
Sashi: Not Malaysian Food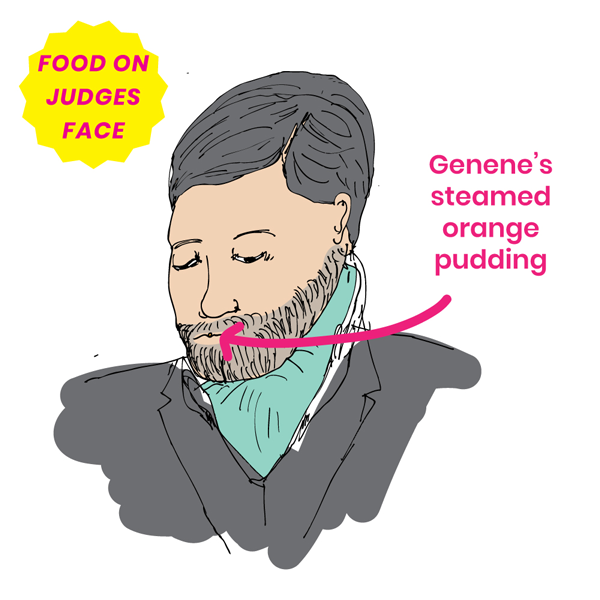 I really feel Denise should have won because her dish made Gary say "GARY LOVES CHICKEN" in an awkward way using a silly voice after Matt had made a joke about Gary's cave man voice. The joke appeared to fall flat and even with clever editing it seemed only Gary laughed.

Sashi is declared the winner (winner chicken dinner), after providing a fire explosion cut to an ad break before the judges cut into what could possibly be the biggest sin in Masterchef: under cooked chicken.

Aaaaah moment. Uplifting music plays. His chicken wasn't raw, it was perfectly cooked/cooked to perfection and Sashi hasn't thrown away the biggest advantage his has got in this competition.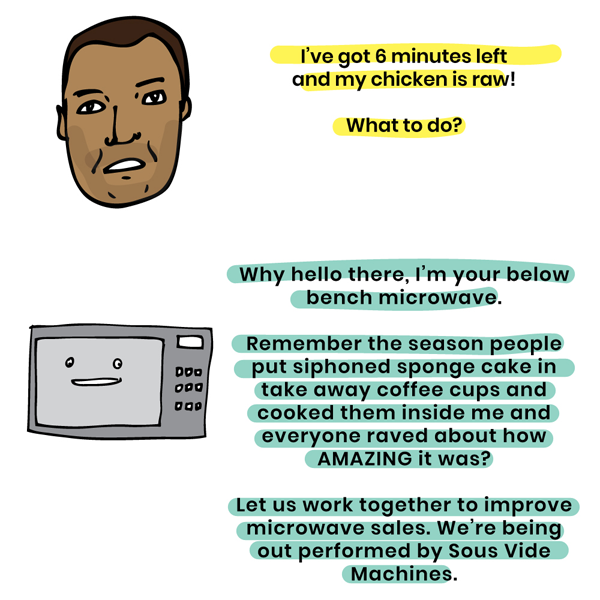 Time to start the Invention Test, the contestants need bring the judges a dish with a surprise inside of it.

Question: would a blue bandaid be considered a surprise? And would this be a crunchy, sweet or savoury element?

This cook was frantic and there was a moment where I thought Kristen was going to explode she looked so genuinely stressed out. But she held it together and ended up with a top three dish.
Chloe made food that her kids love and was edited to seem like it was going to fail. It did not fail, it did very well and it ended up on the judges faces.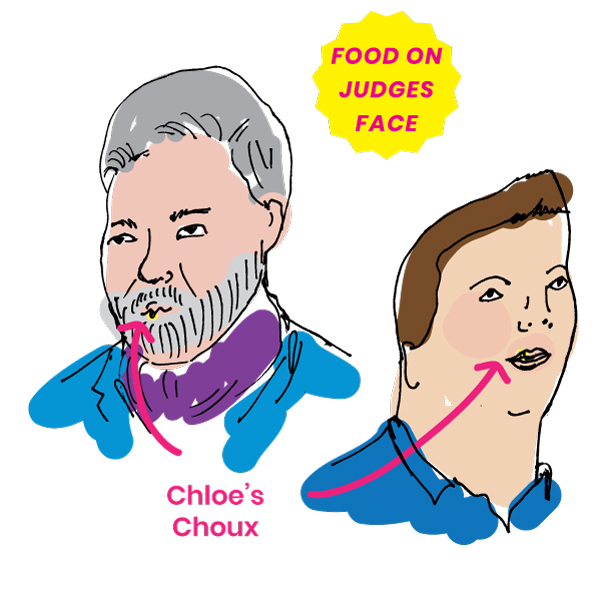 Invention Test Top Three
Chloe: Strawberry things under dirt (crumbs)
Tim: Eggy Onion Thing
Chloe: Choux Lemon Meringue Sable Puffies
Invention Test Bottom Three:
Metter: East Meets West Balls of Meat
Samira: Cobbler
Michelle: White Chocolate Dome Fail Also What The What Is NOUGATINE????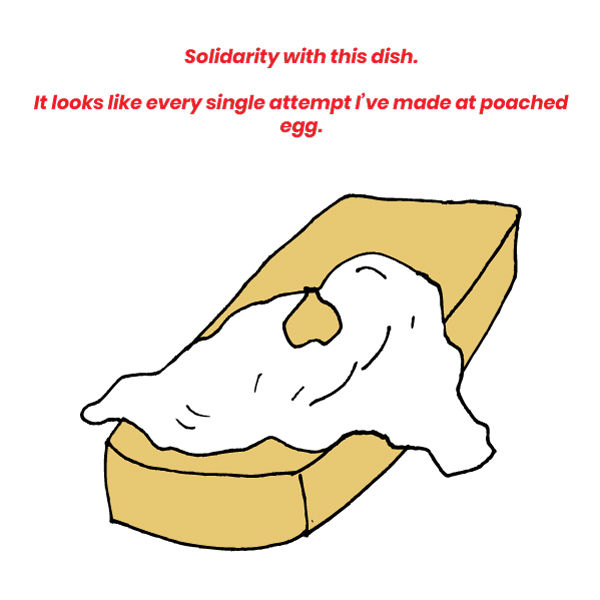 My favourite dish was Sarah's pannacota poached egg on cake/bread. As it lay in front of the judges it genuinely looked like old egg sat on cold toast.

Also, producers take a bow. The judges slammed her and she walked off in tears, her voice over telling the audience that she hoped something would save her.
This felt somewhat cruel when she gave Metter a hug, because she knows his parmesan, fennel, tamarind, coconut sugar, sambal meatballs is what will save her.


I leave you with a new card, a card we designed after hearing Gary refer to Gina's pale pink prawn kiev as a Doodle Wacker. You can purchase the card here, perfect to send to you fellow doodle wacker lovers.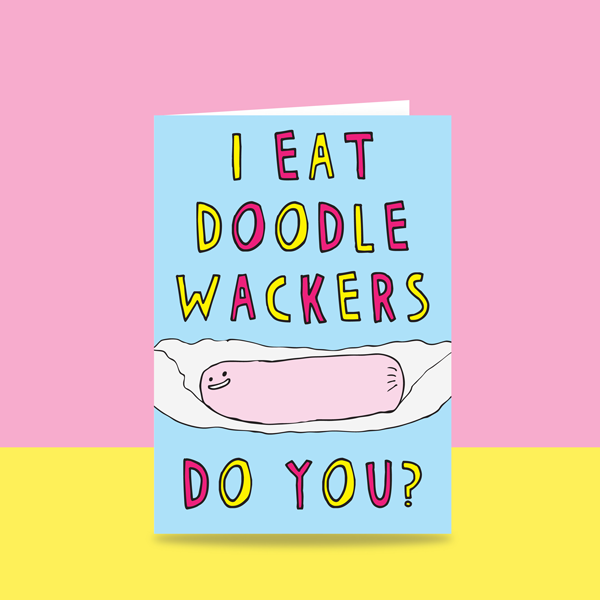 Stay tuned for Episode 6: Monday's Black Apron Cook Off With Maggie Beer Episode Shortly