Welcome to the Able And Game recap of the Masterchef Australia Tuesday Night Immunity Challenge.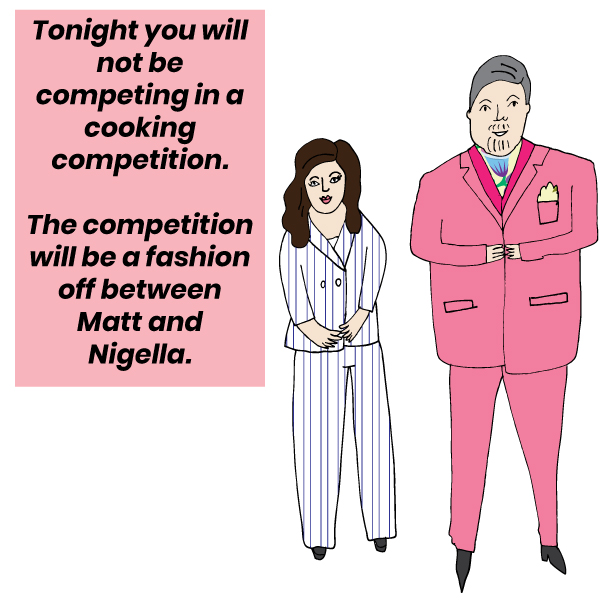 Tonight there is a big surprise twist. Nobody is cooking for immunity, the competition is a fashion off between Nigella "Pin Stripe" Lawson and Matt "Man In Big Pink Suit" Preston. It is a tight competition but Preston is declared the winner due his generosity, although Nigella's elegance is commended.

Wait, this isn't happening for real, sadly. Some catwalk across the benches would have been FUN.

Tonight Loki, Hoda, Ben and Kristen are competing for an immunity pin over two rounds. In round one they need to cook against each other and in round two the winner of round one competes against a professional chef.

Round One: Cook us your most delicious version of pancakes.

Matt tells them pancakes are flat fried cakes made from batter and Nigella tells them she doesn't think she's ever met a pancake she didn't like.

Ben is making a brûlée pancake and is going to fly for it because he loves pancakes.
Loki is making dosa.
Hoda is making aniseed pancakes and is going to attempt the hand pulled cotton candy again as she now has the key ingredient she didn't have last time, lemon.
Kristen is making fluffy buttermilk pancakes with a yoghurt sorbet and George makes a funny face at her for using gelatin in the sorbet.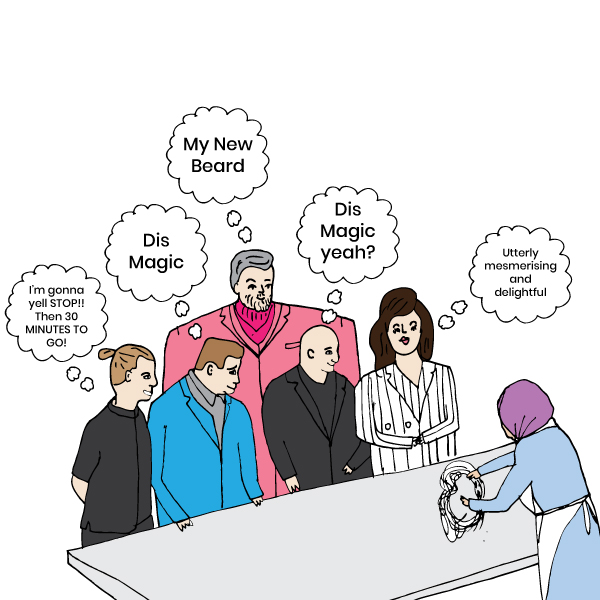 Hoda impresses the judges with her hand pulled cotton candy. Nigella asks how many years do you need to practice to make your fingers do that and Hoda answers with not very long. Gary crows "well be making this on the weekend or what?" No response other than a nervous "huh huh" from an unknown person off camera. I'm assuming it is Nigella and she only laughed because she knows she's leaving on Friday and she won't have to sit at Gary's house burning her fingers on molten sugar on Saturday evening.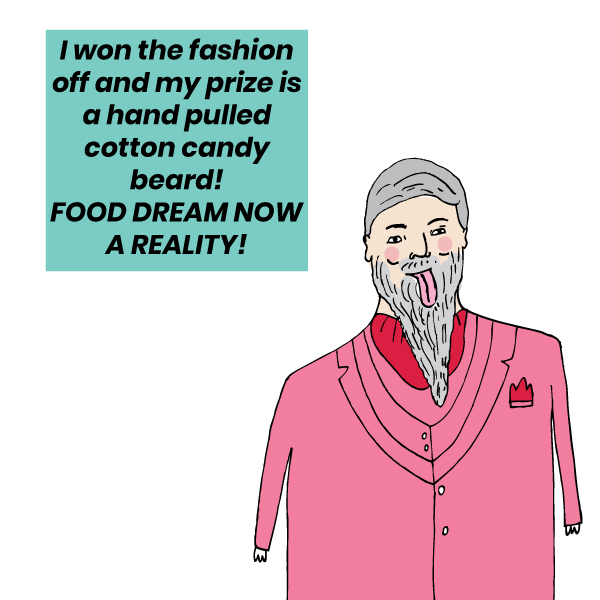 The judges taste the dishes
Gary asks Nigella if she would like to taste first and she tells him he doesn't need to ask twice.
Loki has made delicious food and Gary is going to add the recipe to his home repertoire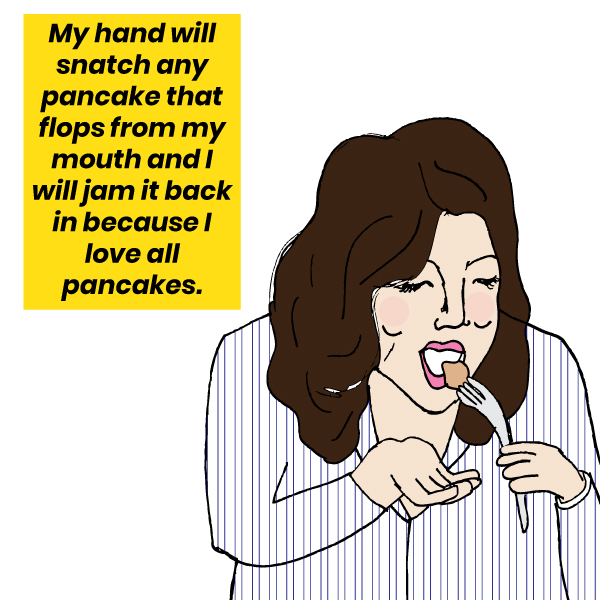 Kristen has not impressed the judges and her pancakes are not exceptional.

Ben stuffed his brûlée pancake by pouring orange juice all over it.
Moist things ruin crunchy elements!

Hoda's dish is good, the aniseed is the genius of her dish. Judges seem more impressed with watching the cotton candy being made than with actually eating it but they joke it could be Matt's new beard extension.

Loki is declared the winner and is VERY happy.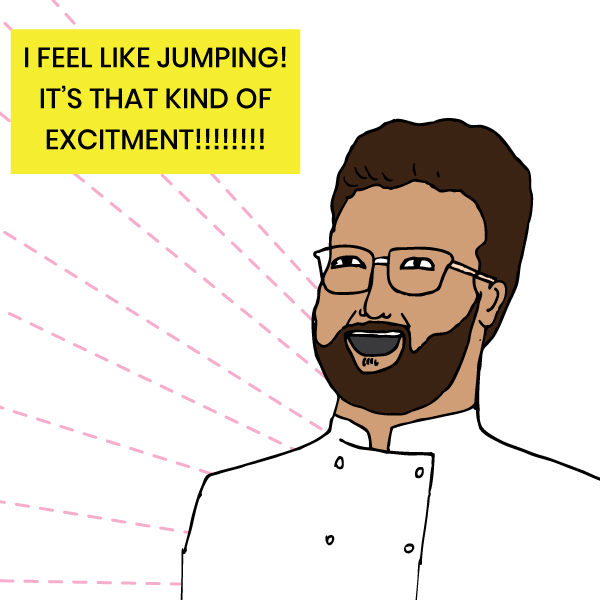 Loki is now cooking against Alanna Sapwell, whose CV is "scary". Alanna completed her apprenticeship when she was in high school and has worked in Italy and Japan. Alanna was the 2017 runner up in the Young Chef Of The Year Competition and works for a restaurant, St Peters, who change the menu daily.

After a week and a half of Masterchef, Loki is worried he is not at the same standard as Alanna, a professional chef.

The judges ask him to select between two veiled ingredients: oranges or lemons. He picks the lemons.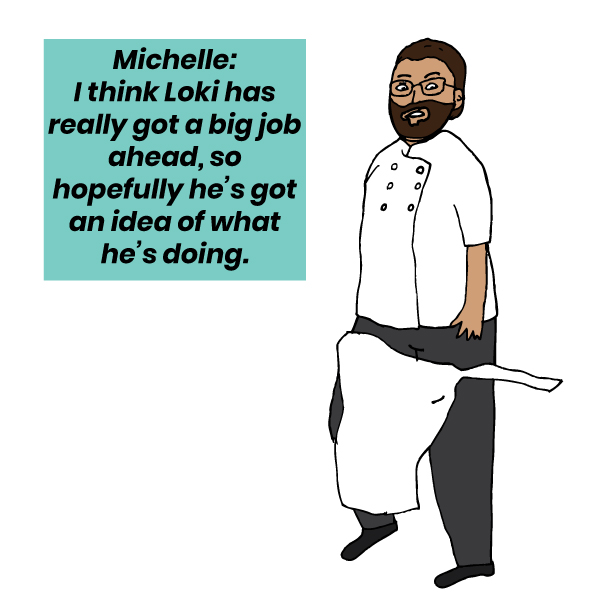 Loki starts cooking and Alanna is locked in the store cupboard for 15 minutes. Loki gets some kingfish and is making a spicy shellfish lemon broth.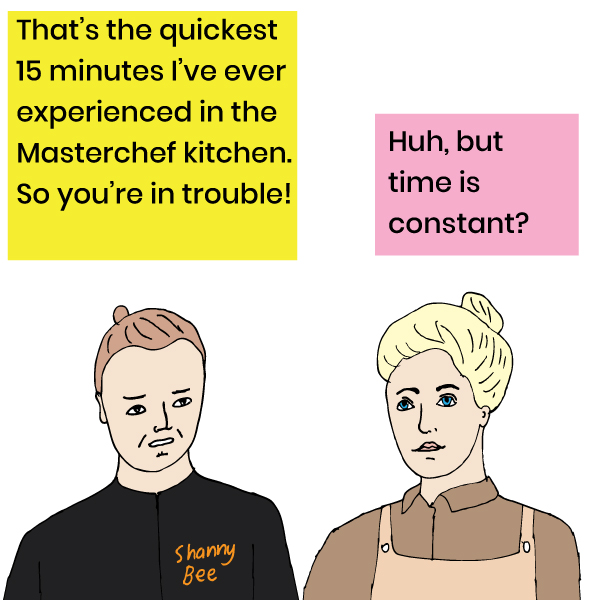 Alanna is let out of the store cupboard and is bombarded by Shannon's Masterchefisms on time and Alanna looks confused.

She starts cooking a sauce from squid guts and eyeballs and people in the gantry are very interested in this, however concern is mounting that she is only heroing the guts and eyeballs and has forgotten about the lemon. Shannon comes over and tells her lemon is a core ingredient and Alanna tells him is her only concern. Alanna starts talking about how time in the Masterchef kitchen is flying by and everything Shannon said before about time now makes sense.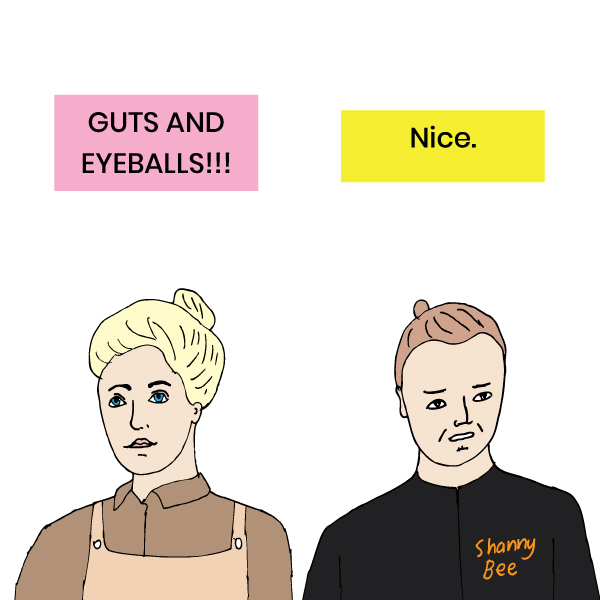 Loki decides he needs to take on the persona of the professional chef if he wants to win this, then Alanna bounces around the corner and asks if he needs and hand and Loki seems embarrassed by this, they are competing, why is she helping him? She offers to get him a weight so he doesn't have to hold his hand in a burning pan so the skin will crisp up enough to create a crunchy element Gary will declare has bags of flavour.

Shannon then tells Loki not to overcook the fish because the fish will cook really fast, then Loki talks about how the fish needs to be perfectly cooked. If Masterchef took out all the airtime given to people talking about how the protein needs to be perfectly cooked, each episode would be 14 minutes long.

Alanna has everything in order and she cooks her squid, not over her preferred method of coals, but on cake cooling rack over an open flame.


Tasting time

Alanna's dish comes out first and Gary loves it and yells I WANT MORE. Matt likes the sauce and Nigella would have preferred more fennel. The dish was small for four people and Nigella comments that she is still hungry and her plate is clean.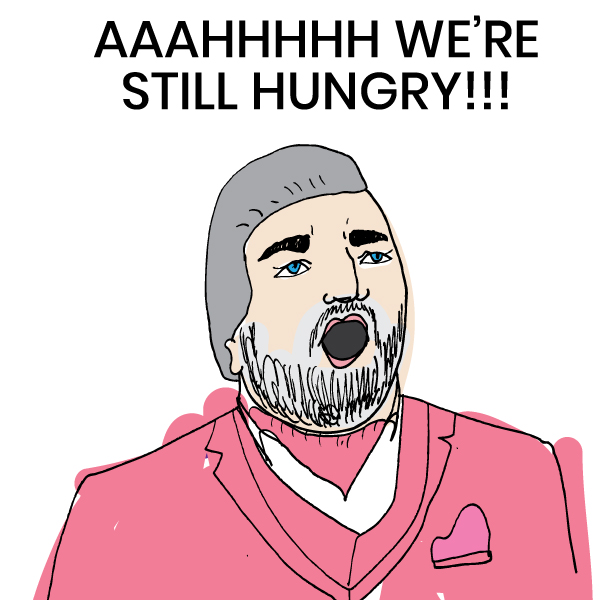 Loki's dish comes out and everyone is happy because it is huge. The kingfish is at least one cubic meter in size and everyone gets lots to eat. Gary yells BAGS OF FLAVOUR so Loki's hand in the burning pan was clearly worth it. Nigella says she never wants to stop eating this and her taste buds are dancing.

The judges deliver their verdict. Alanna's dish was all about elegance and Loki's was all about generosity.

Alanna
Nigella - 8
Gary - 9
Matt - 8
George - 9
Total: 34/40

Loki
Nigella - 9
Gary - 10
Matt - 9
George - 9
Total: 37/40

Loki is ecstatic and starts jumping up and down. He is like WOAH. George says he isn't going to pin the immunity pin on him, Nigella is going to do it and Loki hugs her and anyone who comes within a 5 meter radius of him. The pin will be used to get Loki out of a future pickle if he needs to. Well done Loki!

What pancake dish would have have made if you were competing?
Do you have any comments on this episode or do you just want to nerd out on Masterchef? You can leave a comment on our Instagram or Facebook page.