Welcome to the Able And Game recap of the Masterchef Australia Thursday Night Elimination Challenge.

Tonight's elimination challenge see the blue team from last night's service challenge competing to stay in the competition.

They are:
Kristen, Genene, Lisa, Tim, Reece, Sarah, Hoda, Sashi, Samira and Khanh.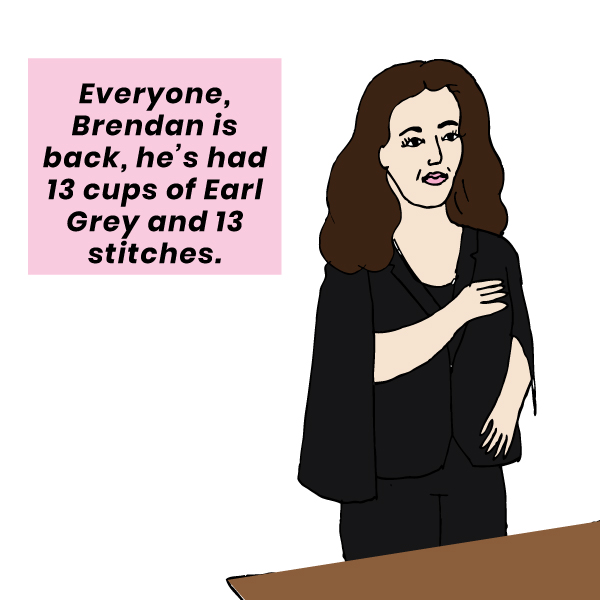 The judges let everyone know Brendan is back and his hand should be ready to go for Sunday.

Tonight's challenge is two rounds. Round one is a taste test and the top 5 are safe. Round two the bottom 5 from round one cook off against one another.


Round One

The cloches are lifted to reveal a classic dish created by Nigella. It has historical importance in the culinary canon and it can be elaborate and whimsical, or simple and cosy.

The dish is trifle and Nigella puts jelly in hers which is an important ingredient in trifle. It's an elaborate and whimsical example of trifle with at least 7 layers and spoons not long enough to dig into it.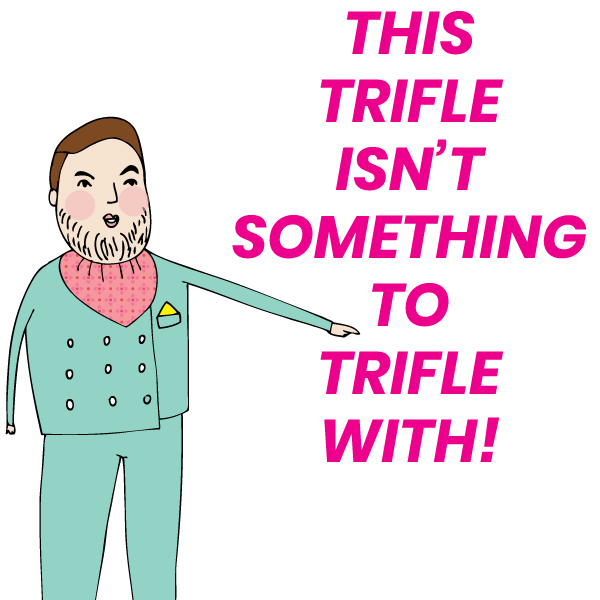 They have three minutes to identify the 26 ingredients and contestants start to tense up and forget things. Lisa plays smart and starts identifying ingredients just by looking at them. Others are trying to dig to the bottom to try the custard and everything is getting muddled with the other 6 layers over it.

The top five in this challenge are
Lisa - 18 correct ingredients
Kristen - 17 correct ingredients
Reece - 13 correct ingredients
Sarah and Sashi - 12 correct ingredients

Hoda, Tim, Samira, Genene and Khanh somehow got less than 12, even though from the TV set you could probably guess 12 just by looking at it. Without the cameras and lights and TV personalities yelling at us because we can mute the TV.

They don't tell us how many the bottom 5 got right, which is a shame because I would like to know.


Round Two

The 5 contestants must now cook a dish using the 26 ingredients in the trifle, no access to the kitchen or the garden. They have 75 minutes.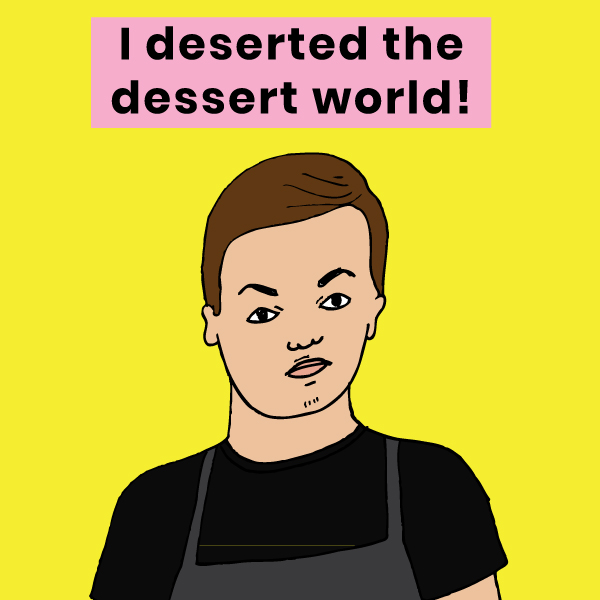 Khanh is worried because he doesn't really live in dessert world, but he is going to try making a pistachio ice cream.

Samira is in a lack of clarity spiral and is creating lots of different elements.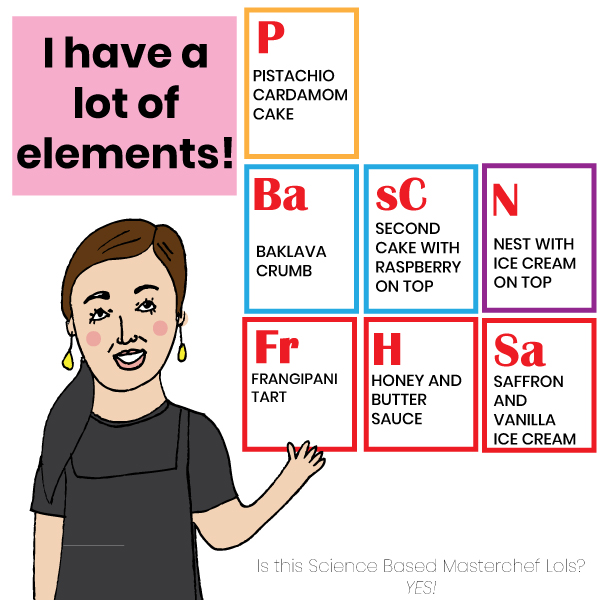 Tim wants to show the judges that he is about more than just meat, he is making a Bombe Alaska.

Hoda is making Kanefe, and her own rosewater, which is impressing the judges even though it is possibly just rose petals in a pot with water and sugar. She is also making kataifi dough which Gary manhandles.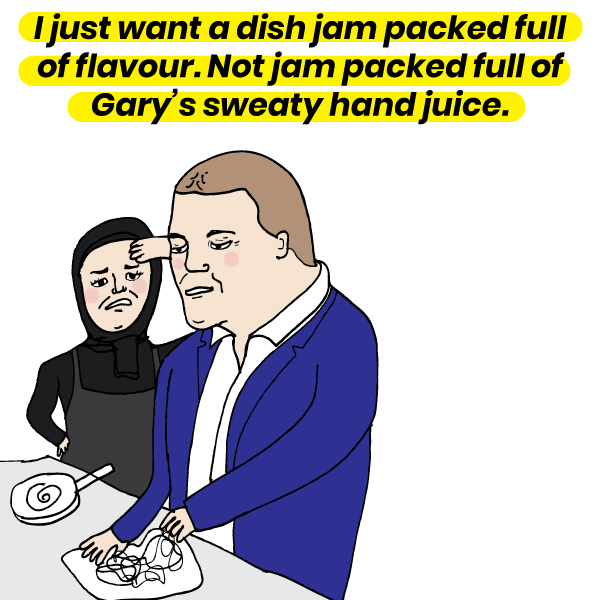 Tim has not allowed enough time for his parfait to set.
Khanh burns his biscuits, but thinks the middle is okay and starts grabbing at it.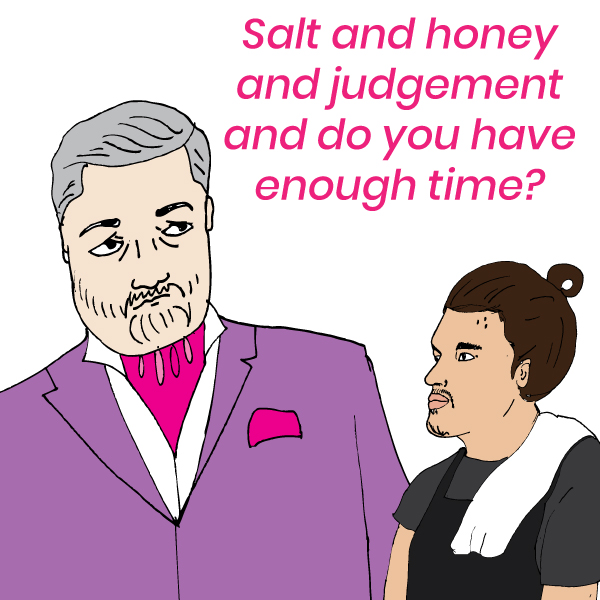 Tim enters a Matt Preston Shame Spiral that sucks all of his time away because gee the clock ticks quick in the Masterchef kitchen.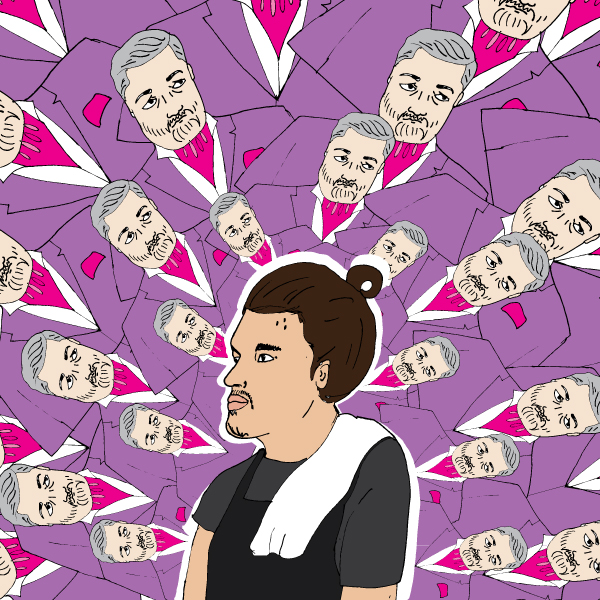 Samira seems to have escaped the Shame Spiral and has gathered herself and has a clear idea for her dish.
Hoda has all her elements finished with 8 minutes to go.

Tim is covering melted parfait with meringue and some sad slices of strawberry plonked on the side.

Genene pops up and we forgot she was even here, she has made a stack of ice cream and we know she isn't going home because she hasn't been on the telly tonight.

Khanh is worried about his burnt biscuit, and his jelly won't come out and how did he make and set jelly in 15 minutes?



Tasting
Samira
Her cake is crusty and delicious, uplifting music plays and Nigella is grateful to have eaten it.

Tim
Bombed Out Alaska
As he blasts the flaccid dessert with the blow torch he talks about how he hopes the flavour is there while tense music plays. The judges then ask what is happening with him. This is like the principal's office in high school circa year 9. The judges eat it and he has lost focus, it lacks precision.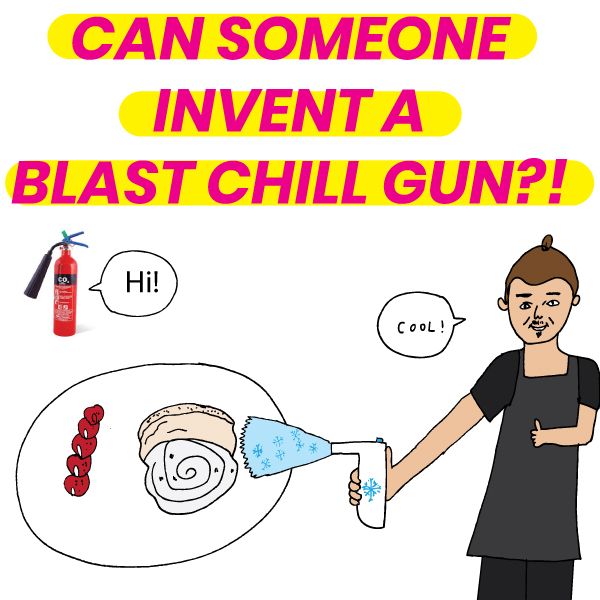 Genene
With what seemed like less than a minute of airtime it is hard to remember what Genene cooked, but it was a stack of ice cream and berries between pastry biscuit with a caramel berry sauce.
The judges think it is just alright and comment that Genene is still finding her feet in the competition.

Hoda
I think Hoda would have to be the most chill and confident person I've ever seen in the kitchen. The judges loved her dish, it has a wobble and she is a real cook's cook because she makes everything from scratch.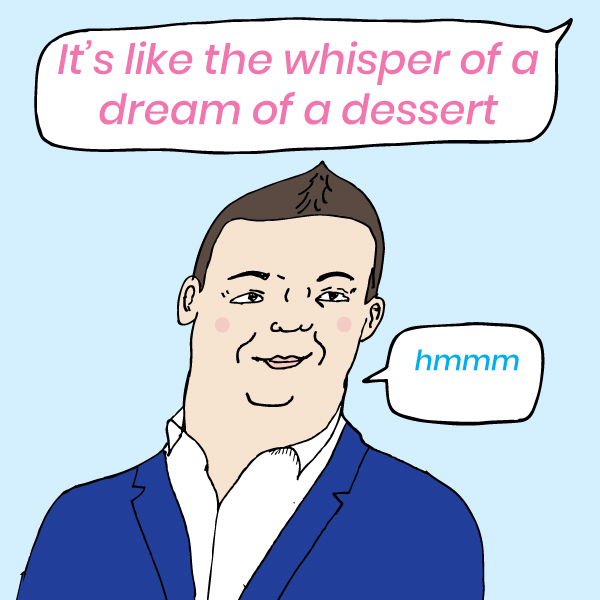 Khanh
All he can think about is his burnt crumb, but is isn't his time, he can't go home now.

The judges loved, loved, loved his ice cream. But the rest of it is not great. The burnt crumbs, the insipid jelly, but could he have just served ice cream on it's own, even if it is that good? It bamboozled George.

Top dishes: Hoda and Samira
Bottom Two: Khanh and Tim

Tim is eliminated, his parfait was too sweet and it melted.

Do you have any comments on this episode or do you just want to nerd out on Masterchef?
You can leave a comment on our Instagram or Facebook page.