Welcome to the Able And Game recap of the Masterchef Australia Tuesday Night Immunity Challenge.
Sashi, Samira and Reece arrive at the Masterchef kitchen dressed in white.

Sashi is determined and Reece says competing for an immunity pin is the pinnacle of being on Masterchef.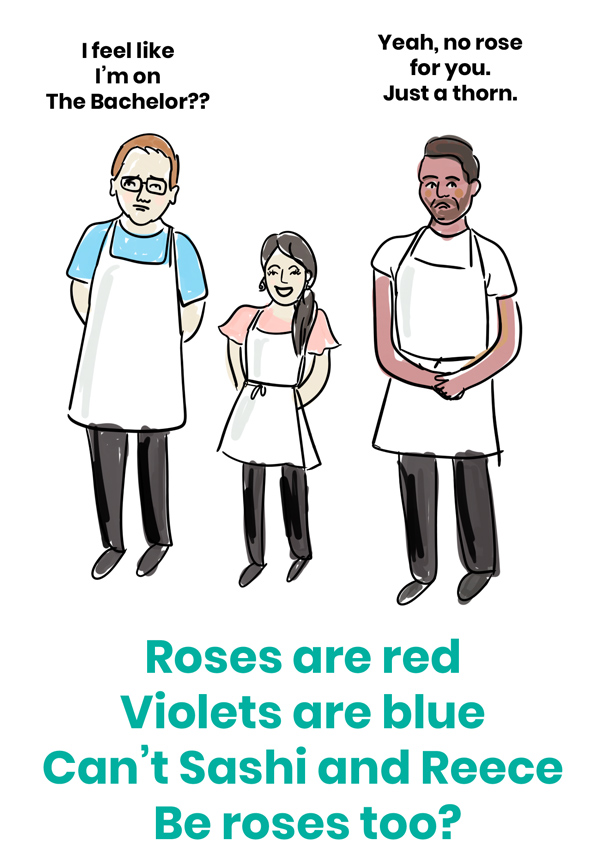 As they come in they see 6 benches and Gary describes Samira, standing between Reece and Sashi, as the rose between two thorns. Matt says they are big thorns and Gary agrees they are big thorns. Awkward laughter.
Shannon has been given the day off, Gordon will be their mentor today.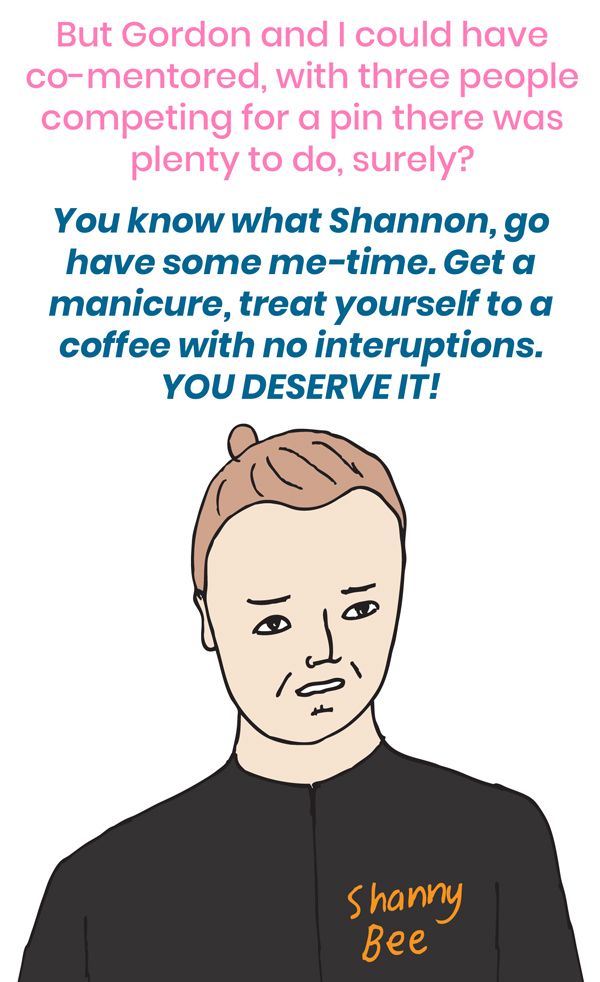 Tonight, three pins are available. Samira, Sashi and Reece will all be competing against a professional chef.

Gordon hands them their chef whites.
He then tells them they are immaculate, then instructs them to kick the professional chefs up the arse. Not just kick their arse, but also angle the kick upwards.

The three chefs enter, they are Gavin Hughes from The Byron, Jo Barrett from Oakridge Wines and John Rivera from Restaurant Amaru.

Jo says this will be quite the challenge, John recently won the S.Pellegrino Young Chef of the Year and Gavin is a massive Gordon Ramsay fanboy and is scared of him.

The contestants draw knives to see who they are cooking against.
Reece is paired with John, "this dude is freaking amazing"
Sashi is paired with Gavin
Samira is paired with Jo.

The contestants have 75 minutes and their choice of pantry.
The pro chefs have 60 minutes and won't know the pantry until they start cooking.
The judges will, as always, do a blind tasting.

The professional chefs are locked in the store room and at least this time they have one another as company. The contestants all high five and Reece and Sashi have to repeat the high give because it was pathetic.

Reece, Sashi and Samira must now collectively decide between two pantries, they are revealed as fruit or vegetables.

They also have an open pantry and garden, but whatever they choose must be centre stage. They don't specifically say that they cannot use whatever they have not chosen as an ingredient.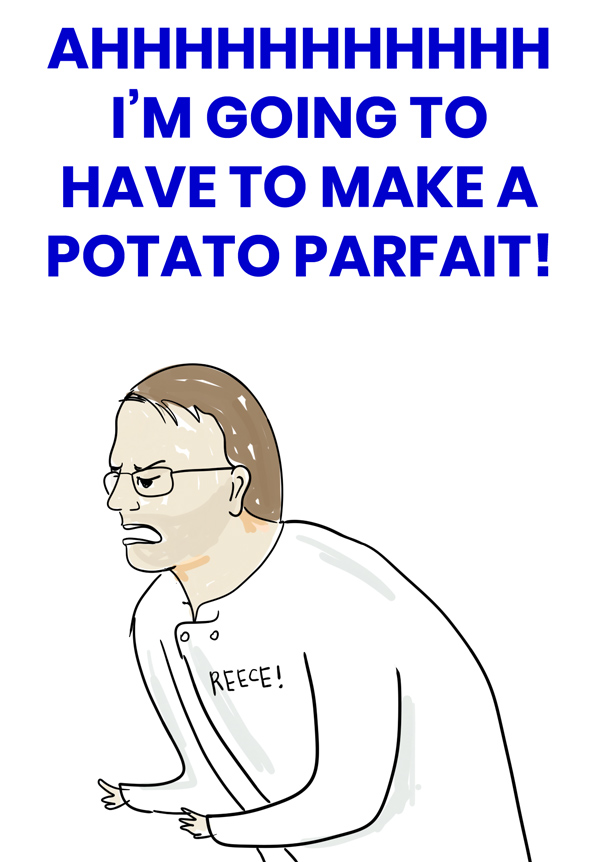 Sashi and Samira want vegetables and Reece is sad because he doesn't want to turn a potato into an ice cream, he makes some whining noises and concedes.
Reece has decided he is going to hero the cucumber and Callan from last years Masterchef is like, hello, been there done that!
Gordon tells him to double question yourself because big brother is always watching.

Sashi is making duck and vegetables with a curry sauce and this must be the best dish he has ever cooked.

Gordon yells at Samira, she is walking about like she's finished her cook. She is making a pumpkin pilaf with caramalised onion and quail.

He reminds them they are making one dish, so don't go crazy.

He then yells to Sashi, no gas, no heat, no heat, no pin and turns on his cooker. He then says earth to Sashi. If you've not had Gordon say  to you Earth [insert name here] have you even cooked in Gordon week?

Gordon unlocks the door to the pantry and releases the professional chefs. He tells them they look scared, likes sheep to the slaughter.

He then starts "riling" the professional chefs because he wants the contestants to get the pins. They see through this and try and block out his incessant questioning bollocks.

John is making a mussel juice broth and needs to hero the broth.

Jo is making a potato dessert. She doesn't realise, because she wasn't specifically told, she can't use any fruit and Gordon throws her pack prunes away, even though it was in the pantry and she was told she had an open pantry. Jo has the appropriate look on her face that sums up this farce of a situation.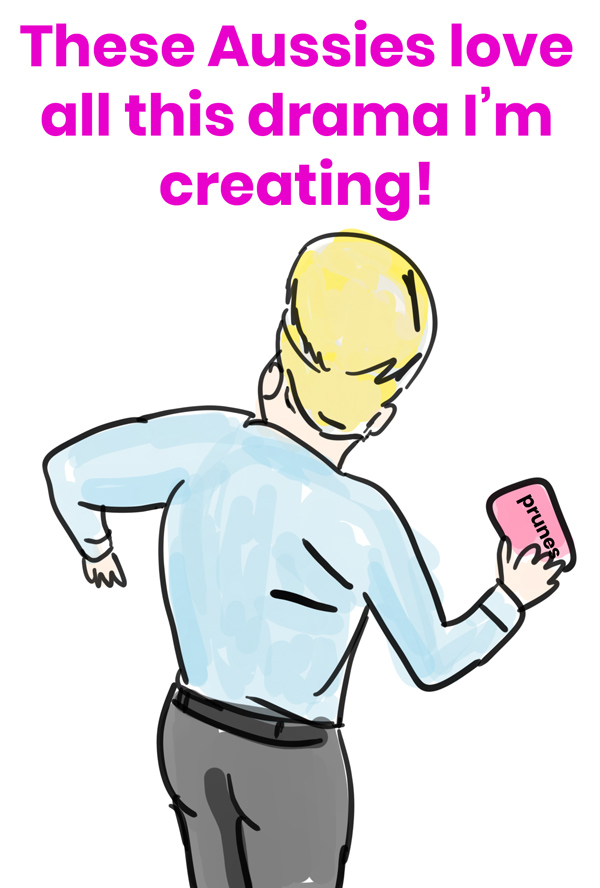 Jo is now using ginger. Gordon explains that this is acceptable because it is the root of a vegetable.
Gordon tells Sashi to get his shit together.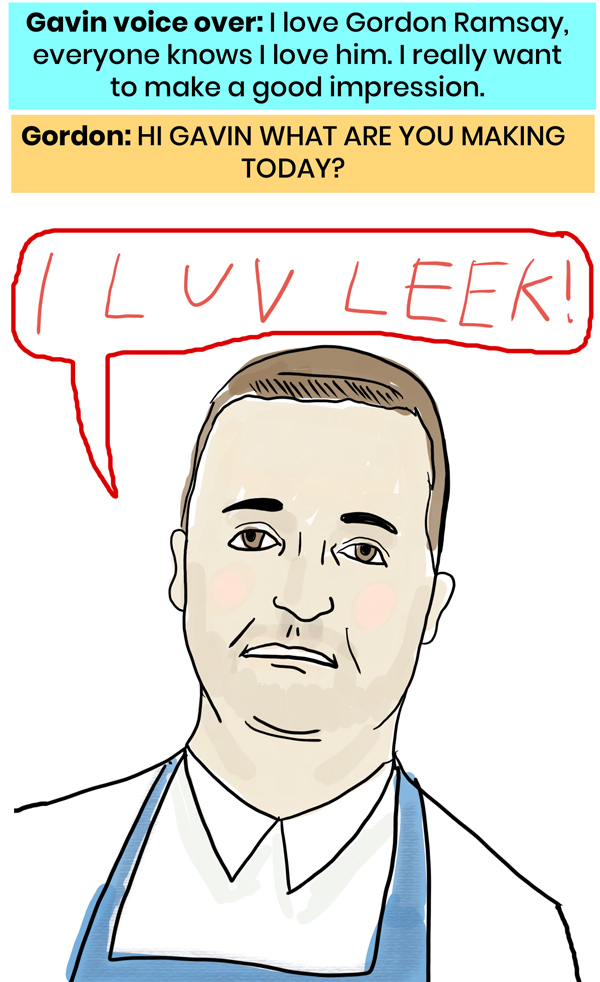 Gavin starts fanboying over Gordon.

They have the following conversation:
Gavin: I'm cooking sirloin of beef because I'm Mr. Safe.
Gordon: Big Man, you're not cooking for a fucking seniors home.
Gordon: How are you going to sex it up?
Gavin: By cooking it properly.

Gordon tells him to fly the Scottish flag high, but that he doesn't want him to win.

Sashi is going to deconstruct his curry, it is going to be clean and modern and all the vegetables will be cooked in duck fat.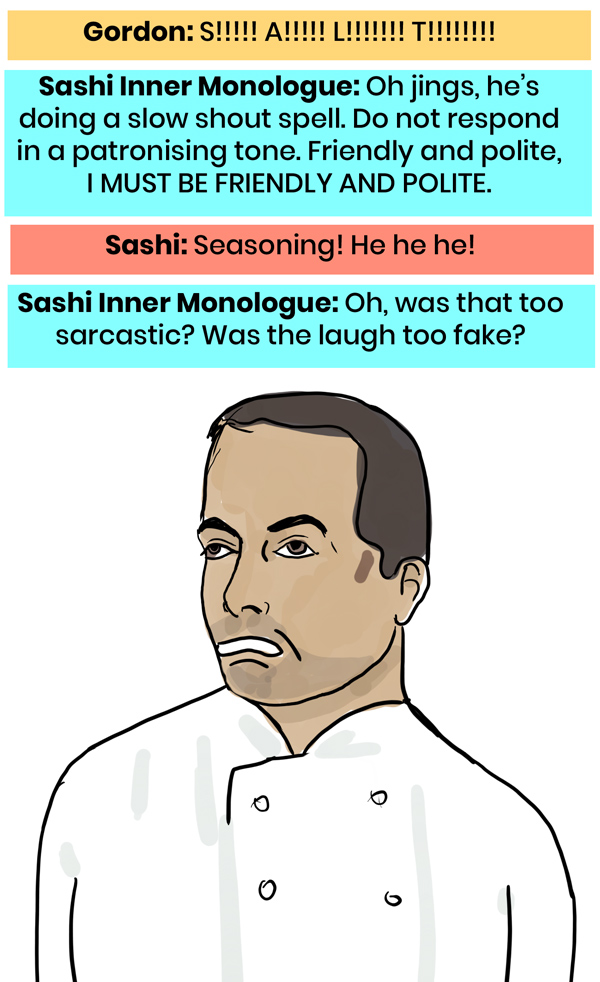 John is feeling the pressure. But pressure is good, you know that?

Reece is doing a dessert with vegetables, that's big. Obviously, Gordon didn't watch any of last season of Australian Masterchef where ice cream became a vegetable.
Gordon comes and chats to Samira and tells her there is no point to cooking the rice now, it needs to be light and magical not stodgy and overcooked. Samira, don't kill the food.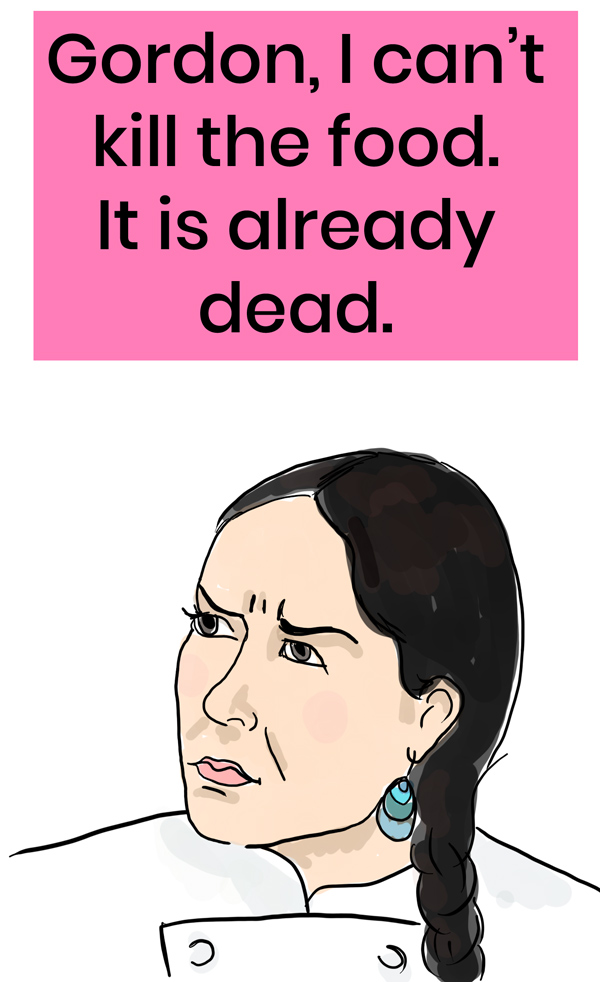 Jo is making a mille feuille but replacing the pastry element with potatoes. Gary is going to be happy about this.

Gordon tells Reece his flavour is there so he needs to think about his finesse. Finesse is using thinly sliced cucumber to encase yoghurt parfait. Gordon tells him if he pulls this off it will be one of the greatest desserts [a vegetable has] ever seen.
Gordon tells John he is the iceman of the kitchen.
Gordon picks Gavin up in the air.

Gavin is thrilled with this and when he woke this morning he didn't think he's be in the arms of the great chef.

Gordon asks Gavin where his beef is, he tells him in the fridge. Gordon tells him he is playing with fire.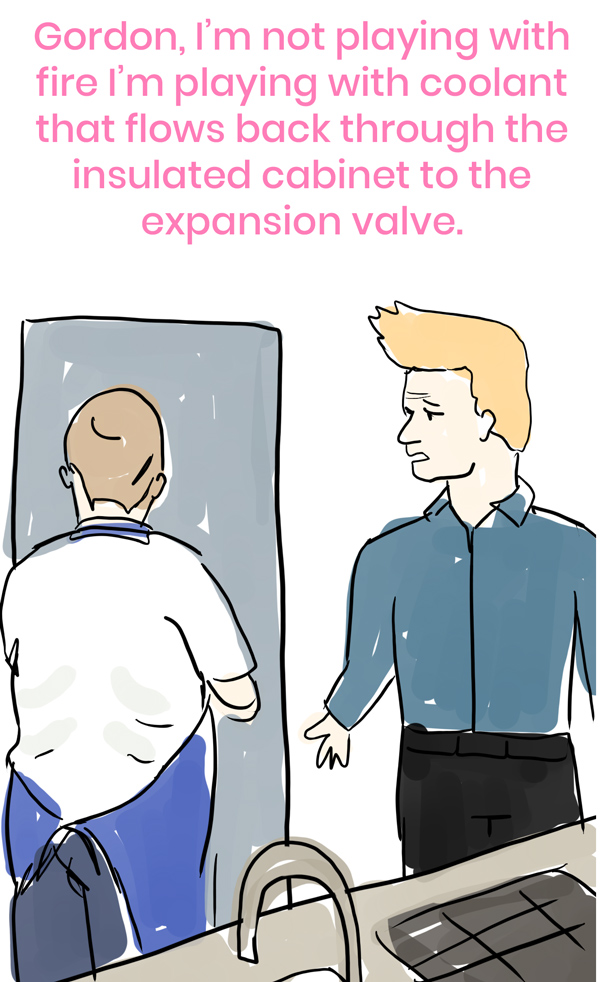 Gordon tells Sashi to tidy all his shit up.

Gordon asks Samira where her plate is, she says it is coming. He says so is Christmas.
Samira wants to slow clap and says nice one Gordon, you *could* be a funny man if you tried.

Gordon tells Reece this is your night.
Gordon asks John how he is doing and when he confesses he is struggling Gordon says good and walks off.

Ben's supersonic gantry eyes has spotted a problem. John has used too many bonito flakes and he hopes it isn't too much and overpowers the flavour.

Intense string music plays.
John's hands are shaking.
Samira says her pilaf is delicious.
2 minutes remaining.

Jo [voice of reason]:
"what is going on? Everyone is screaming, Gordon is pushing my buttons, I have to block it out''
She wonders if her potato dish will throw the judges, she obviously doesn't know about Gary and his love for deep fried crunchy elements. She is going to be fine.

Gordon makes Sashi shout LESS IS MORE to him, telling him he can't hear him and to say it louder until Sashi is screaming in his ear. Less noise is more conducive to a working environment, the shouting seems unnecessary as Jo has already pointed out.

LESS IS MORE is now Sashi's life motto
Gordon screams at them to stop. He then says uplifting words after whipping them into a stress frenzy.




Judges table: Gary, George and Matt


Tasting Samira and Jo

Samira
George loves the pumpkin and Matt loves the onion in the rice. The quail is delicious, and it is a beautiful plate of food.
Jo
Matt chuckles.
The potato chips are super thin and using a potato as a dessert is delicious.
Gary says the people at home will be saying potato crisps, are you serious?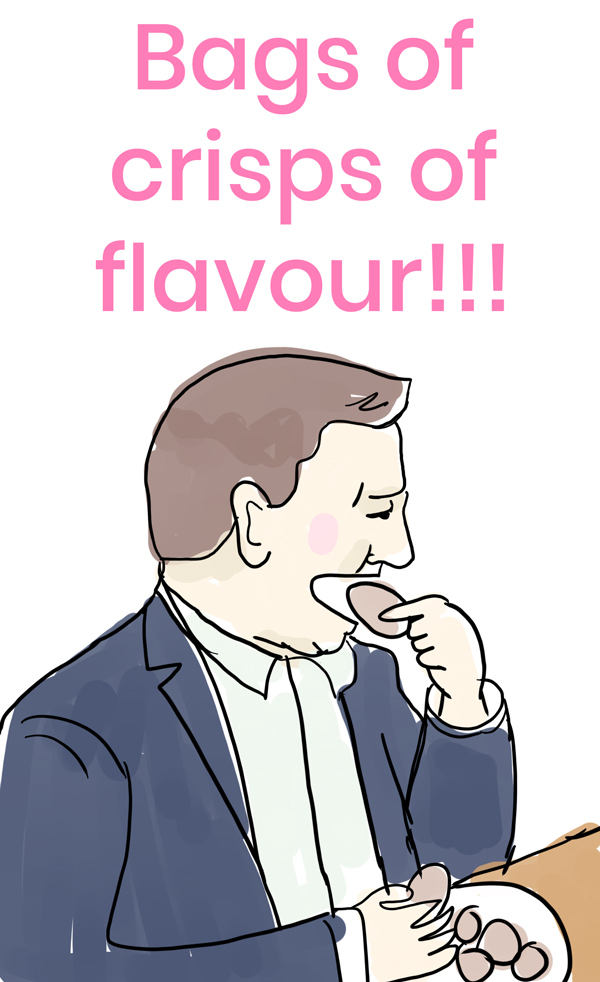 Tasting Sashi and Gavin
The judges compare the dishes noting they are totally different, one is really delicate.
Sashi
The sauce is delicious, they are Gary's kind of flavours.
Matt loves the flavour, but they wanted the vegetables in the sauce, not the vegetables in a fine dining context.
Gavin
The beef dish doesn't have the vegetables front and centre so has missed the brief.
There is not a lot of joy and pleasure coming from the vegetables on the plate.
The think Gordon breathing down their neck got to whoever cooked this dish.
Tasting Reece and John
Matt notes they've moved into the Monet part of the gallery as the dishes are both covered with flowers.

John
His tofu mayonnaise is okay, but then Matt says you know when you go past a fishing port on a warm day and you smell funk, this dish is that funk. Not in a good way. He then says broth is the bindi in the beautiful lawn.
Reece
Gary is looking out the corner of his eye and can see the cucumber dish and wants it, after 5 dishes he is still hungry.
Matt makes a fancy happy face.
Reece's dish is a beautiful combination. Thoroughly modern and beautiful.
Scores

Samira: Matt 8 // George 8 // Gary 8
Jo: Matt 10 // George 10 // Gary 9

Jo: I'm a bit bummed for Samira
Sashi: Matt 6 // George 7 // Gary 7
Gavin: Matt 5 // George 6 // Gary 6

Despite cooking possibly his worst dish in the competition Sashi wins a pin. The judges blame Gordon for Gavin's demise.
Reece Matt 9 // George 8 // Gary 8
John Matt 7 // George 7 // Gary 7

What derailed John's dish was his broth.
Gordon is very happy.
Reece is very happy.
Gordon says Reece goes off-piste, but he is confident off-piste and stayed focused.
What we can take from this is if Gordon wants to rile you up to prevent you cooking at your best, chances are he will succeed at this task.
Do you have any comments on this episode or do you just want to nerd out on Masterchef? You can leave a comment on our Instagram or Facebook page.