Welcome to the Able And Game recap of the Tuesday Night Immunity Pin Challenge.

Reece and Sashi want create history.
They want to get their mits on another pin.
Khanh just wants his pin back.
Gina just wants a pin.
Also, I didn't think I would be rehashing this image, yet here we are: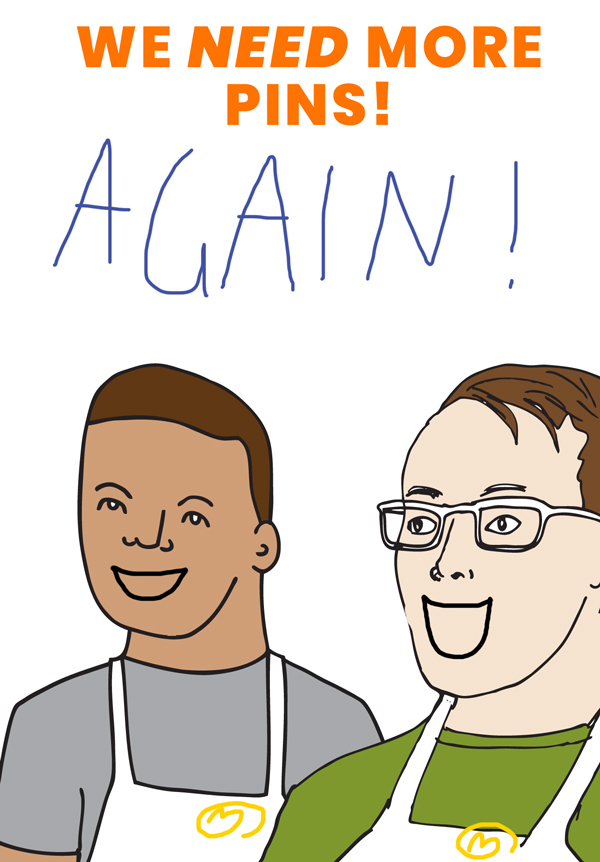 Round One: classic skills test in the form of a Shannon Bennet Vue De Monde job interview.
Shannon tells them these are the skills they need to have if they want to work in his kitchen.

Skill One: Brunoise of mirepoix. That is 3mm by 3mm chopped onion, celery and carrot.
Skill Two: Classic hollandaise. No recipe.
Skill Three: Salted caramel sauce.

Each round is sudden death, Shannon is judging on his own. Winner goes through to cook for an immunity pin. They have 10 minutes per round.

ROUND ONE: Cutting vegetables small
Everyone it cutting slowly. There are no rulers to help with the 3mm guideline.

Reece cuts himself and there is blood.
The nurse is called Libby, she bandages him up, he gets a blue glove on and only four minutes has passed.

Khanh says cutting a carrot is brain surgery.
Gina calls this high end chopping.
Reece has nice knife skills.

Chop ends and Shannon inspects the veg with the back of a spoon.

Top vegetable cutters: Khanh, Sashi and Gina.

Heartbreaking music plays as Reece walks up the spiral staircase. GUYS, HE ALREADY HAS A PIN!

ROUND TWO: Hollandaise Sauce

Khanh says it will be hard.

Khahn uses the microwave to melt butter.

Jess says it is just like making mayo. Sorta.

Gina has made Hollandaise many times.

Sashi is stressed. Good Hollandaise needs to be between 55-60 degrees. He needs to be careful with the temperature, otherwise he will get scrambled eggs.

Gina's has scrambled her eggs.
She's making it again, with one egg and 4 minutes to go.

Khanh is giving it a good beat.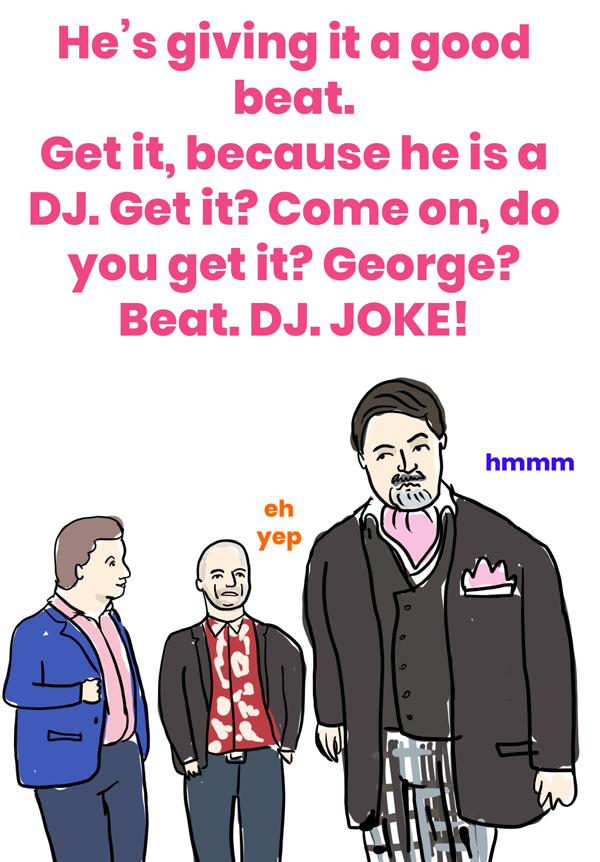 Shannon starts tasting and Khanh has sauce on his eyebrow.
Shannon draws in breath and the teletext describes it as HISSES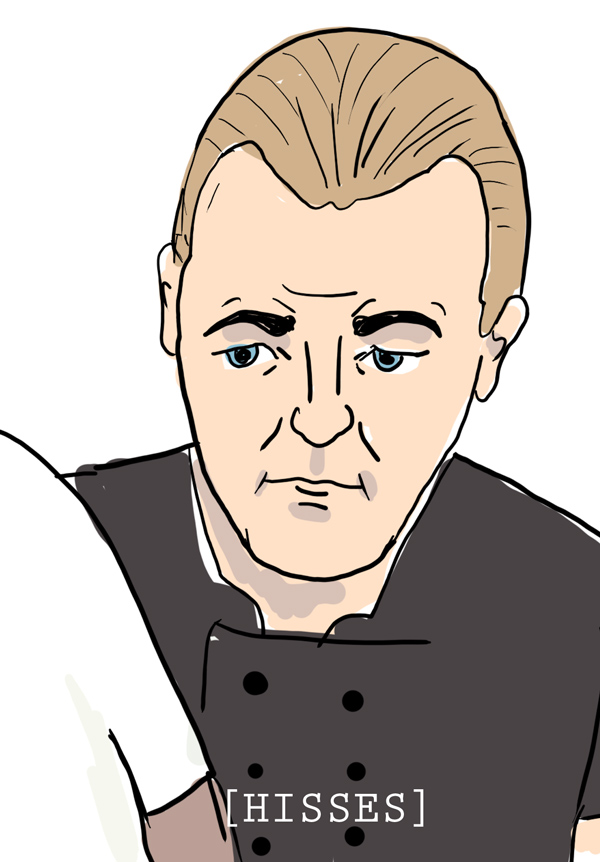 Shannon says it is very tough trying to decide who has made the worst hollandaise sauce.
He potters about a bit then announces the winners.
Best: Khanh and Sashi
Gina just missed out

ROUND THREE: Salted Caramel Sauce

Sashi is freaking out.

Khanh isn't, has made a lot of salted caramel sauces.

Sashi has never made the sauce this way. He makes it with palm sugar and coconut milk.

Sashi and Khanh both add a heap of salt. You need a heap of salt.

Shannon tries both sauces. Nice consistency, nice crunch.|
Crunch?

The winner is Sashi.
How many times will the words "Masterchef History" be uttered in the next hour? Many times.

Sashi is cooking against is a professional chef with a fearsome reputation.
He has worked as executive chef at Vue De Monde, with old mate Hissy.
From QT Melbourne, it's Andy Harmer.

The usual rules apply:
Sashi has 75 minutes.
Andy has 60 minutes.
Sashi has the choice of ingredient with which they need to hero in their dish.

Sashi needs to choose between two ingredients to hero:
There are two tables full of various ingredients, he needs to choose on from each.
Whoever produced this episode phoned this one in and just plonked a bunch of stuff on the table at the last minute.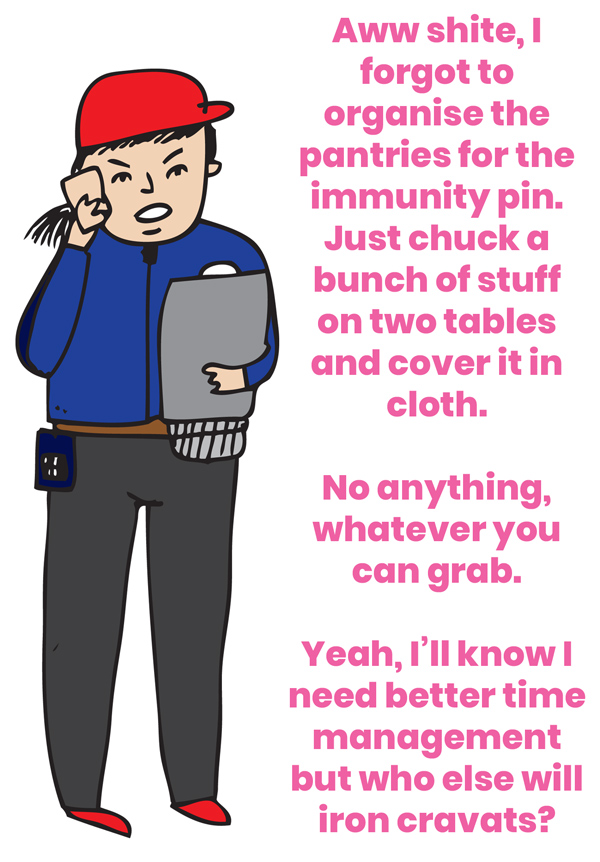 Sashi chooses lamb and peas.

Sashi is doing a spice rub lamb with a pea puree.

Andy is upbeat, despite being locked in the pantry.

Shannon tells Sashi that lamb, pea puree and jus isn't enough by asking him "is it enough?".
He needs more elements.
What will go well with lamb? Brussel spouts and broccoli!

Sashi says the judges like flavour. And he knows how to make flavour. With food

Andy is released from the pantry.

Andy is in the food pantry looking for iceberg lettuce.
Andy is making chicken stock because the pantry has none. Gantry people yell out that the pantry does indeed have chicken stock. Andy races back.
The contestants clearly don't want Sashi to win.

Andy is making a bunch of stuff. Peas in peas in emulsion and iceberg lettuce chiffonade with sour cream and baba ghanoush with the lamb that has been frenched and a roast chicken sauce.
Shannon asks if he has made this dish before and he says no. Nobody has ever made this dish before.

Sashi realises he needs another element. Something tangy. Yoghurt!

Khanh has said that Andy has taken on too much. Andy doesn't realise that time goes fast in the Masterchef kitchen.

Andy goes back to the kitchen and finds Kewpie mayo and is HAPPY.
Sarah says they need to pick their battles and making mayonnaise is a battle he doesn't need to fight today.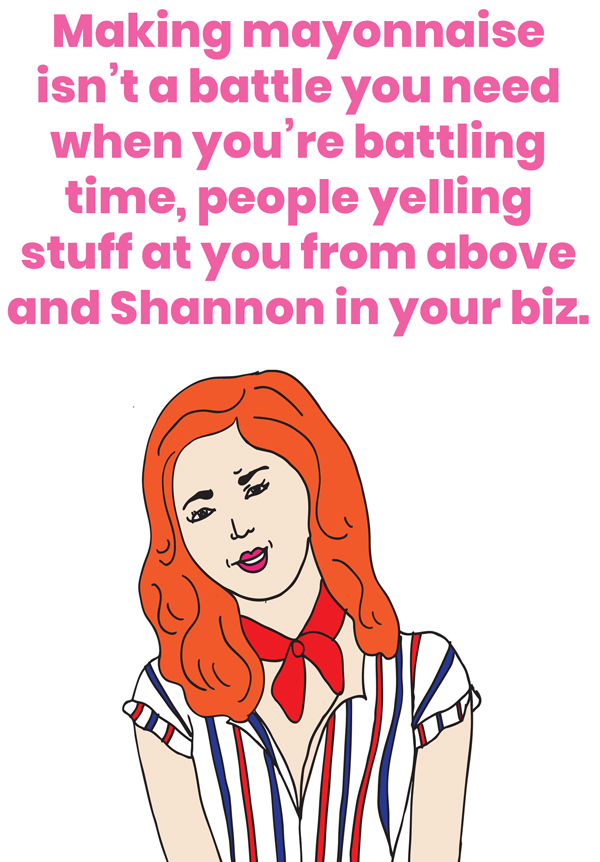 Sashi says his kids are very particular about how he cooks lamb.
Overdone: Gross Dad!
Underdone: Bloody Dad!

Andy's lamb is only going to rest for 2 minutes. Is this long enough?

TASTING

ANDY
Lamb with minted peas
Gary starts spooning the sauce into his mouth.
He says it is gold.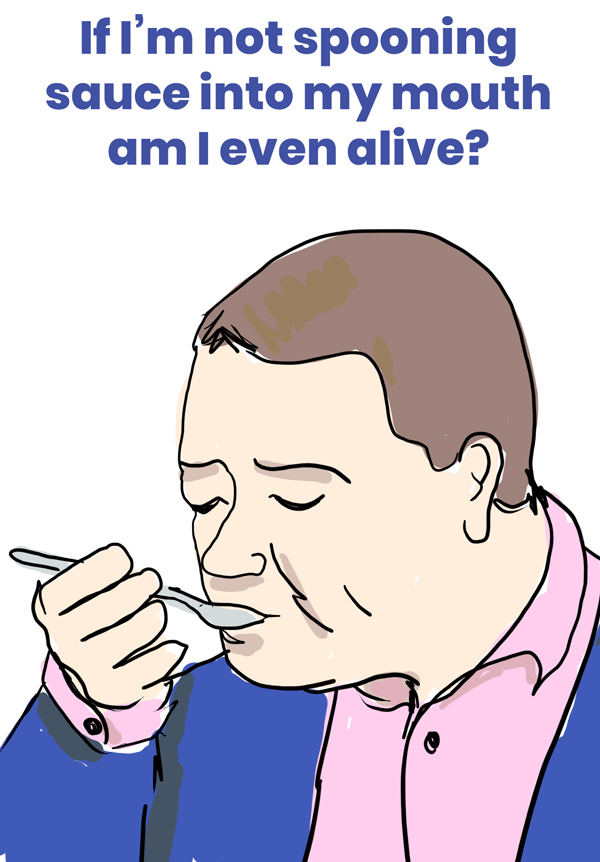 Will they detect Kewpie mayonnaise?
George loves it, but there is a bit of lamb in the centre that isn't cooked enough.
Gary doesn't mind and he has polished his off.
Gary asks for more.
There are a few things in life that bring Gary joy and sauce is one of them.

SASHI
Lamb and pee puree
George is drawn to the crunchy elements.
The lamb is beautifully cooked.
There is a bit of heat in there which is unexpected.
Gary is sad, the sauce is all gone.
The judges are wowing!
It looks classic but it is riot of flavours.
Could it be presented better? Yes, but they are in the business of flavour. And this dish is flavour.
Nobody says bags of flavour.

RESULTS
Andy
Gary – 8 George – 8 Matt – 8 24/30

Sashi
Gary - 9 George- 9 Matt – 9 27/30

Sashi makes history!!
Also, the judges didn't detect Kewpie mayonnaise.



If you're in Brisbane we will be visiting for The Finders Keepers Market this weekend. Pop by and say hello and chat Masterchef with Anna!


Do you have any comments on this episode or do you just want to nerd out on Masterchef? You can leave a comment on our Instagram or Facebook page. Or if you're after some fun greeting cards, check out our online shop.