IS CORN ON TREND?
Today in the office Gareth said to me: "Anna, I'll tell you which card is selling better than expected, the corn on the cob card".
This is our corn on the cob card: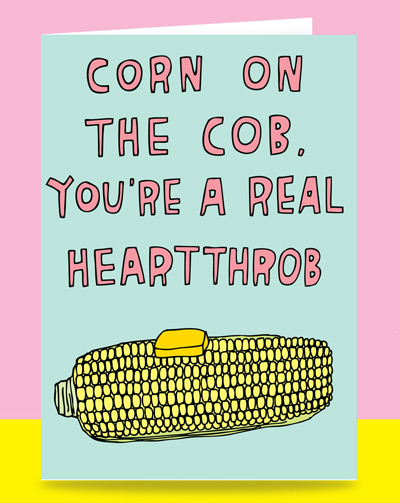 And here are my three reasons why I think this card is doing so well for Valentine's Day.
1. Corn is seriously delicious.
Get a fresh cob of corn, BBQ it and slather it in salt and butter and you will be very happy.

2. It makes the best salsa.
I'm not kidding when I say it is the best and also the easiest.

Here is what I do:

4 Ingredient easy corn salsa
Ingredients:
- Corn cut from 2-3 cobs
- 1 red onion finely diced
- 1 bunch of coriander finely chopped
- Big squeeze of lime
- Salt to season

Method:
Cook in hot fry pan until charry marks appear and the onion is cooked through ( appear 3-7 minutes)
Put into serving dish and add:
Corander cut and a big squeeze of lime.

Notes:
- Quantities can vary, so play around with getting it the way you would like.
- If you don't have lime you can sub in lemon, if corn isn't in season canned corn works, it's not as good but it's still good.

3. This is the big reason why this card works perfectly with Valentine's Day: corn is in season here in Australia.
Walk into the supermarket and big lush ears are piled up near the door for under a dollar each.