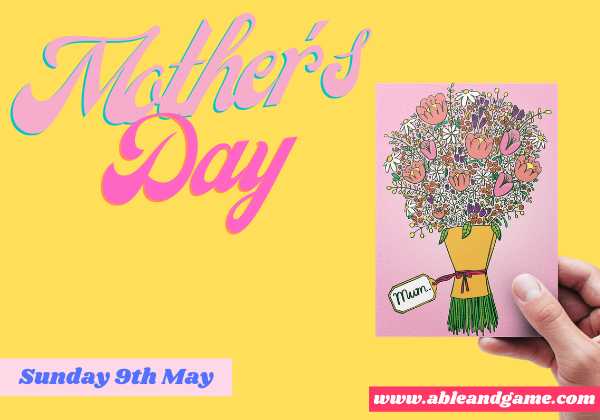 Mother's Day is one of the big events on the greeting card calendar at Able And Game and we have some new designs to add to our collection. Last year, in the lead up to Mother's Day, we were learning how to live in lockdown while home schooling so we had a lot of unfinished ideas ready to go for this year. Our themes this year are flowers, books, cheese and retro '80s fashion.
This design was made up as a postcard for one of our stockists, a cheese shop back in 2020. I thought the postcard would be perfect for their Mother's Day gift orders but then after Mother's Day the design sat in a folder and was forgotten about. So when I saw it ready to go for 2021 I was really excited because I love this design. Cheese themed greeting cards are my favoruite because we love cheese, and the woman staring longingly at the huge cabinet feels like it could be us.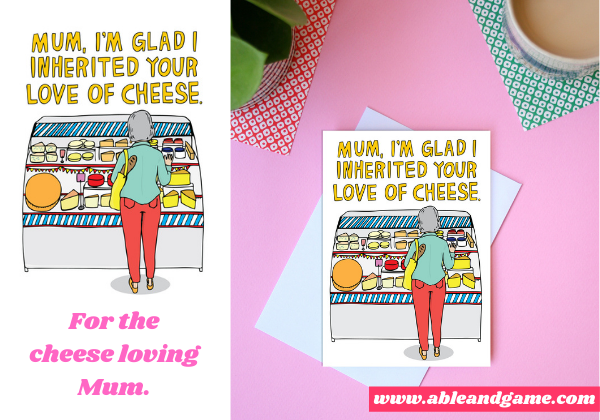 Click here to shop this card



This is one of my favourite card design because it reminds me of the fun fashion my Mum wore in the '80s. This woman has just been to the salon and had a big perm put in and is ready to bust some moves at the primary school car park, embarrassing her kids to no end.

I really got a lot of satisfaction drawing this design. It was on a Thursday afternoon and it felt like my brain was able to slow right down and just watch the fine liner do it's magic. I took it really slow and built up the flowers until there was a lot going on. I also took my time deciding on the colour ways and had so many options my Illustrator crashed.
My folder of designs from last year had this one sitting there with the rough draft showing exactly what the drawing would look like. Getting the right angle for this took a few tries because I wanted the focus to be books. This meant that the pile on the night stand stood out just as much as the Mum in bed. I really love making this genre of "glad I inherited" cards and we now have twenty designs across both Mother's and Father's Day, with quite a few being cards we have given our own parents.

I had the idea for this card for Mum come into my head when I was drawing with my six year old, who loves drawing. I was worried it would work better on a square card, but decided to test it out on our rectangle card shape. Even after mocking it up a few times I wasn't sure if it would work.

When I did the first test print for this design it had a blue background and black outline. Gareth and I were both not into it and I almost scrapped it. In the past I would include designs that I wasn't 100% sure about but the last few years I've been leaving them even if I've got them to the point where we could sell them. Before popping this in the folder for next year I thought I'd try a different colour palette and really loved this glowy yellow. Like the bouquet design above it's another simple, safe bet Mother's Day card, with a really sweet message.

Hi, I'm Anna from Able And Game and I design fun and cute greeting cards that celebrate real life. We design and print our cards in our Brunswick studio, based in Melbourne and have been making them for over 12 years. We love to make cards that connect you with your favourite people.

Thank you for reading our blog post about our new Mother's Day greeting card designs. We love designing greeting cards for Mum and many of the designs are ones we have made for our own mothers. If you're after a great card for you Mum we have a big selection to choose from.

Want to connect on social? You can find us on:
Instagram + Facebook + Pinterest.