A few months ago I was doing some online research. You know the kind, you're waiting for something to load in photoshop, switch over to Firefox and start clicking away.
Cat videos
,
Blogs
,
News Websites
,
random Wikipedia pages
and 40 minutes later you feel like you've run out of internet. However this time I ended up at
Sticky's online shop
. I didn't know they had one, got a bit excited and started shopping. I set myself a modest budget of $20 and started adding to the cart. Based on the image on the front and a short description it is a little pot luck with what you will get, but that just adds to the fun. I ended up with about 7 zines and a plan to do a shop every month. I then realised they were also worth blogging about, because let's face it we have all thought about making a zine but these people have actually done it.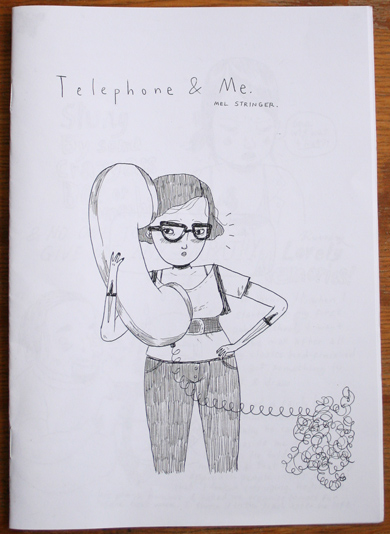 I'm going to start with
Mel Stringer's
Telephone and Me*
because it really is the perfect zine in my eyes. The drawings are amazing, the type that makes you feel a little giddy and warm inside and the stories are really interesting. I first saw Mel's work in
Frankie Magazine
a few years back when she was featured on their poster and loved the story relating to this in the zine, despite it being really sad. It was refreshing to see someone talk candidly about the life of an illustrator and how it isn't always easy. The zine is full of lots of little everyday encounters, conversations and observations all sent to your mailbox, what could be more perfect?
*I've linked to the Etsy shop because I couldn't see any left on the Sticky Website.