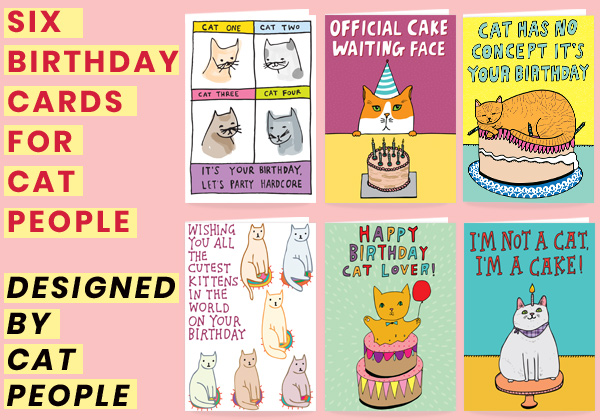 Here at Able And Game we are fully fledged cat people. I have been a cat person since I was little and from about 8 years old my birthday presents and cards were always cat related. I don't think in my almost 41 years this has been something I've grown bored of. Gareth was converted into the kingdom of cat only recently, back in 2014, and in that time he has received some cat related greeting cards.

Here is a range of six of our favourite cat themed birthday cards, designed for cat lovers just like us.

This card is a celebration of the reality of cats. They don't care for your birthday celebrations, they just want a nice place to sleep. If that happens to be on your fancy birthday cake then so be it. We like to celebrate real life on our cards and this card is a celebration of real cat life. A funny birthday card for the cat lover in your life.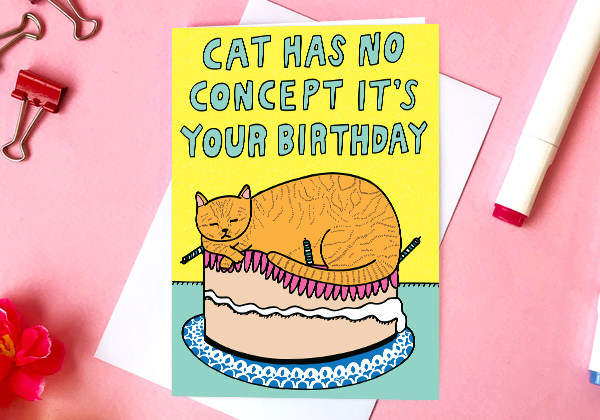 Click here to shop this card



This was one of our first birthday cards for a cat person. I love to include rhymes in our cards because it makes the message so much more special. I don't have any sceince to back me up, but I suspect rhymes please the brain and make us happy. This greeting card is for a cat lover who likes to party hard on a birthday.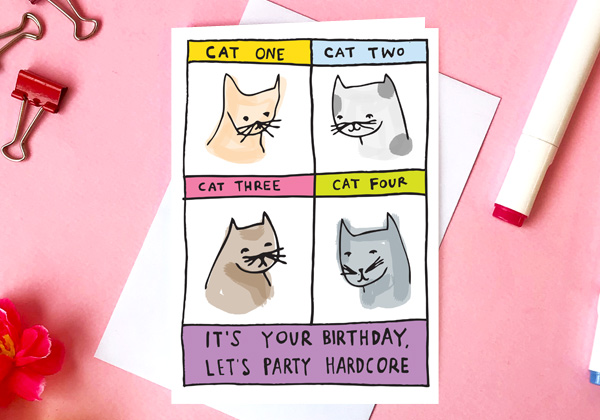 Click here to shop this card
This birthday card for a cat lover features a cat coming out of one of those giant paper cakes. Can you imagine going to a birthday party and there is a big paper cake and loads of kittens come out? That would be spectacular.
We made this card a few years before the infamous lawyer on the zoom call with the cat filter on, saying JUDGE I AM NOT A CAT. This cute cat birthday card is for cat lovers and cake lovers.

This card was originally an illustration I made for Instagram. One day when I needed some card inspiration I had a look at my feed and saw this and realised it would make a great greeting card for a cat person. The grumpy looking cat is waiting patiently for the happy birthday tune to be over so they can tuck into the cake.

This is one of our original cat cards, designed after thinking about what would make the best birthday ever. All the cutest kittens in the world felt like the best birthday ever and this is a birthday card for someone who adores cats. The cat person who wears cat fashion, has a photo of their cat ready to show you at any given moment and they leave a trail of cat fur coming off them as they wander about the world, eyes peeled to spot some cats to pat.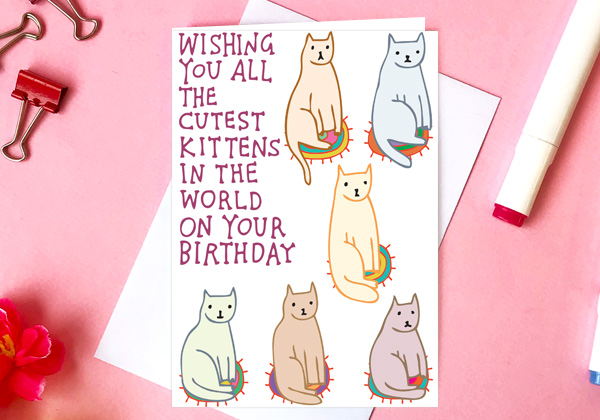 Click here to shop this card
Hi, I'm Anna from Able And Game and I design fun and cute greeting cards that celebrate real life. We design and print our cards in our Brunswick studio, based in Melbourne and have been making them for over 12 years. We love to make cards that connect you with your favourite people.

Thank you for reading our blog post about our birthday cards for cat people. We love designing greeting cards for cat lovers because we are cat lovers. If you're after cat themed presents for the cat folk in your life we have lots to choose from.

Want to connect on social? You can find us on:
Instagram + Facebook + Pinterest.